July 22, 2015
---
EURUSD, Daily
EURUSD price, now having touched the lower end of my initial 1.0970's corrective bounce target, should open up the way for a 1.1030's lower top on any clean break of the 1.0970's. Daily chart price action is still well contained within my downward sloping bear channel; Stochastic Oscillator analysis supports a further corrective bounce before any resumption of the daily chart downtrend. Traders may look to open new short positions within the 1.1030's for a measured move (March lows – May highs) that may extend price lower towards a retest of the 1.0840's.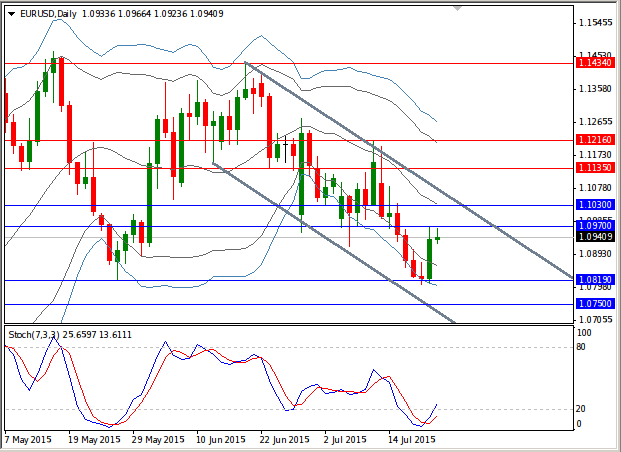 Standard & Poor's on Tuesday upgraded Greece's sovereign credit rating by two notches and revised its outlook to stable from negative, citing euro zone countries initial agreement to start negotiations with the country on a third bailout. The probability of Greece leaving the Eurozone is less than 50% , however the country may still face shrinking GDP.
U.S. Fed's annual industrial production revisions showed production knocked down to 0.2% in June, versus the prior 0.3% print, while May was left at -0.2%, with April revised up to a -0.3% pace from -0.5% previously. Capacity utilization for June was revised down sharply to 77.8% from 78.4%, while May was nudged to 77.7% from 78.2%, with April at 78.0% versus 78.5%. At the margin, the data add to the argument for the FOMC to delay a September rate hike.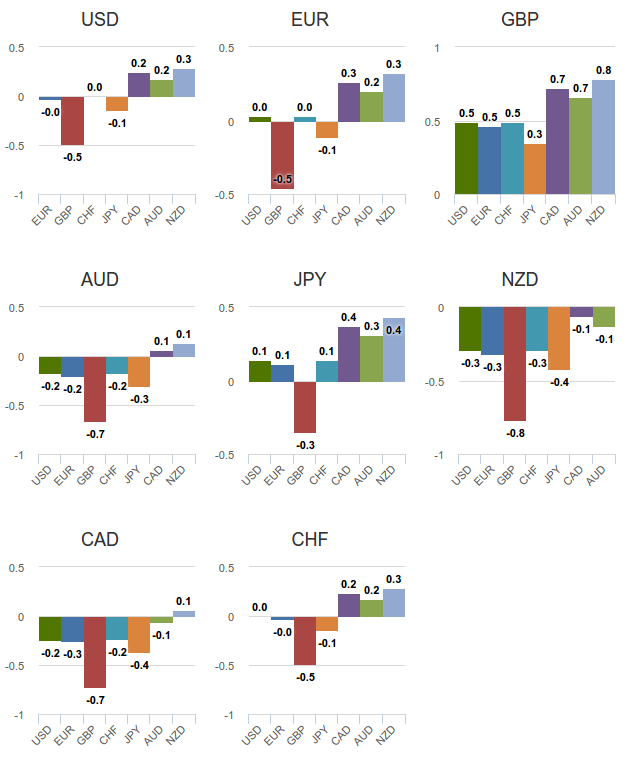 Currency Pairs, Grouped Performance (% change)
The new Currency Movers Charts show the percentage change from previous day's close to the current moment against the other major currencies.
This morning EUR is trading lower against the GBP and the JPY. The GBP is stronger across the board against most pairs.
Significant daily support and resistance levels for these pairs are:

Main Macro Events Today
• GBP MPC Official Bank Rate Votes: The Bank of England (BoE) will begin to tighten monetary policy as late as in the third quarter of 2016, EY ITEM Clubsaid in its latest forecast for the UK economy.
• USD Existing Home Sales: Existing home sales for June are forecasted at 5.330M , median 5.400M both lower from last 5.3550M
Publication source
---
HotForex information
HotForex reviews
January 20, 2017
Asian stock markets were mixed overnight, after U.S. and European shares closed in the red Thursday. Japan and mainland China bourses managed to move higher (Chinese GDP beat expectations at 6.8%)...
---
January 20, 2017
UK retail sales fell most since 2012. We see he fastest pace of decline in almost five years in December. It is due to sales of... pretty much everything from household goods to clothing and food...
---
January 20, 2017
Investors await Trump's inauguration and speech due later today as he takes office as the 45th President of the United States. The U.S. dollar was seen giving up some of the gains yesterday with some volatility coming off the EURUSD on the back of the ECB meeting...
---