EURUSD price, having cleared the 1.0970's at the time of this writing, is now on its way to print a new lower top (below the July 10th high of 1.1216), ideally around the 1.1030's in order to keep the daily chart downtrend channel intact. The stochastic momentum indicator indicates that the current corrective bounce is picking up steam. A further move beyond the 1.1030's should not be ruled out as price may extend towards the 1.1140's before breaking down to continue towards my medium term downtrend price target near the 1.0750's.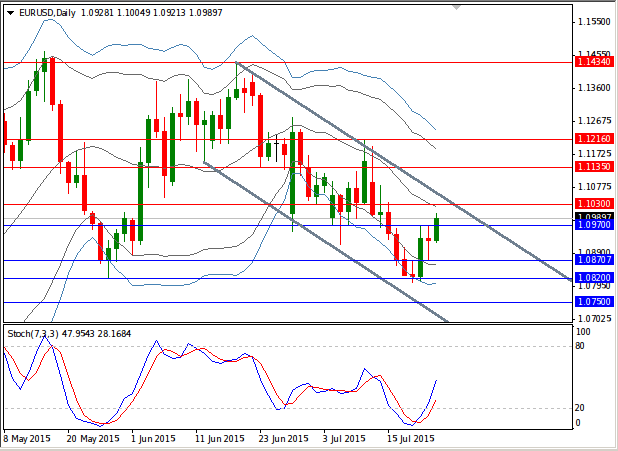 Markets are scaling back on any Grexit premiums since Greece has now paved the way for the start of official bailout talks by pushing through a number of reform measures last night. Another positive EUR development was that Spanish unemployment fell during Q2; however, at 22.37% it is still high.
The USD had some support as a strong existing home sales report helped USD sentiment. U.S. existing home sales rose 3.2% to a 5.49mm in June, which was better than expected.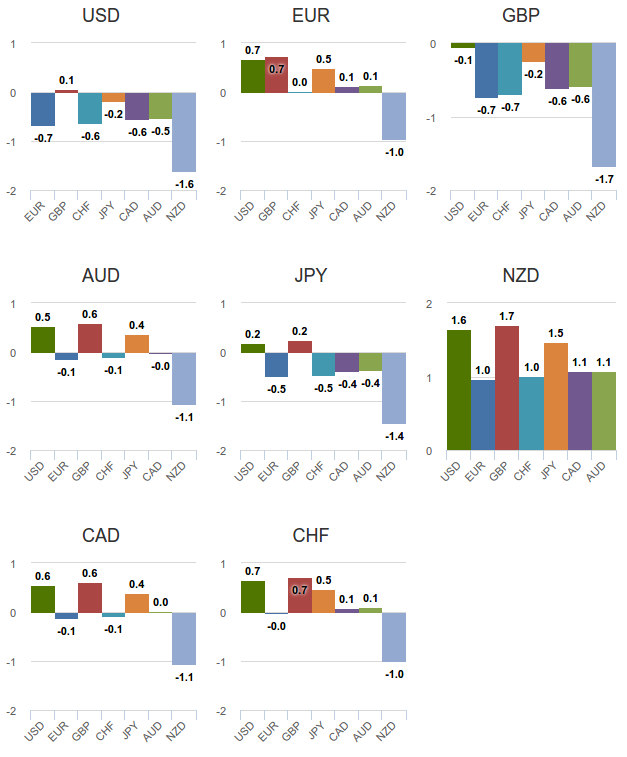 Currency Pairs, Grouped Performance (% change)
The new Currency Movers Charts show the percentage change from previous day's close to the current moment against the other major currencies.
This morning EUR is trading higher against the majors. The GBP is weaker across the board against most pairs, while the NZD has strength across the board.
Significant daily support and resistance levels for these pairs are:

Main Macro Events Today
• GBP Retail Sales: Unexpectedly fell by 0.2% m/m. The median forecast had been for a 0.3% m/m rise, which would have been unchanged from May. The y/y figure worked out at +4.0%, down from May's +4.7%. The weakness stemmed from a 0.3% drop in food sales and a 0.9% fall in household goods, which probably reflects month-to-month volatility as there doesn't appear to be a rationale for the declines.
• EUR Spanish unemployment fell in Q2: Still very high 22.37% from 23.78% in the previous quarter. The government estimates growth at 1.0% q/q in Q2, and the Spanish economy continues to outperform the other big Eurozone countries as the reform measures take hold. Still, unemployment is slow to adjust down and the high youth unemployment rate also reflects remaining structural issues and is fuelling popular resistance to the reform path. With Spain heading for elections in autumn a repeat of the Greek debacle is not unlikely and the risk that reforms are being reversed is not negligible. It is expected that retail sales will expand 0.5% m/m in May (median +0.6%) after the 0.1% drop in April.
• NZD Reserve Bank of New Zealand : Cut rates 25 bps to 3.00%, matching expectations.
Asian stock markets were mixed overnight, after U.S. and European shares closed in the red Thursday. Japan and mainland China bourses managed to move higher (Chinese GDP beat expectations at 6.8%)...
UK retail sales fell most since 2012. We see he fastest pace of decline in almost five years in December. It is due to sales of... pretty much everything from household goods to clothing and food...
Investors await Trump's inauguration and speech due later today as he takes office as the 45th President of the United States. The U.S. dollar was seen giving up some of the gains yesterday with some volatility coming off the EURUSD on the back of the ECB meeting...