August 12, 2015
---
EURUSD, Daily
EURUSD rallied to the 1.1090 resistance identified in my report yesterday. The pair reacted lower but then attracted buyers at an intraday support at 1.1012. This has led to a fifth consecutive up day with price once again trying to challenge the resistance area above 1.1090. EURUSD is trading inside the upper Bollinger Bands (1.5 and 2 stdv) and the Stochastics is getting overbought. Trend in 4h resolution has been strong and suggest that this will be another day without a significant correction in EURUSD but the upside is indeed getting limited as the resistance area is near. EURUSD is trading near levels that have been able to turn price lower before, therefore I expect that in today's trading upside will be limited to 1.1090 – 1.1130 range.
The PBoC devalued again, shifting the yuan's reference rate to 6.3306 versus the dollar, which is a 1.6% weakening of the Chinese currency relative to yesterday's 6.228 (which itself marked a 1.9% depreciation). There seems a degree of acceptance in markets, with Credit Suisse economists, for instance, calculating that the yuan was 5 to 10% overvalued going into the devaluations, adding that anything more than a 10% shift in the currency would spark political backlash. Incoming Chinese data today, including production, retail sales and fixed-asset investment, showed weakness.
German lawmakers not ready to wave through Greek bailout. There are reports that German Chancellor Merkel is facing opposition to the plan to let lawmakers vote on the third Greek bailout package early next week. A deputy to Finance Minister Schaeuble told ARD television that "one needs to look closely" and "ask the Bundestag for approval when the common understanding is that this will hold for three years". If there is a delay it could derail Greece's close time table and the race to get political approval before Greece faces another big ECB repayment on August 20.
German insolvencies are falling sharply, with the overall number down 6.6% y/y in the year to date and down 10.6% y/y in May alone. This is another sign of a relatively robust domestic economy, but also a reflection of the fact that especially small companies in Germany are facing fewer financing constraints than companies elsewhere in the Eurozone. The low interest rate environment and robust domestic demand are also helping t hem to perform.
Yesterday US wholesale sales edged up 0.1% in June and inventories rose up 0.9%. The 0.3% May sales gain was nudged down to 0.2%. May's 0.8% jump in inventories was revised lower to 0.6% (0.4% April). The inventory-sales ratio increased to 1.30 from 1.29 (revised from 1.29). Gains in most of the nondurable sales components slightly offset broad-based declines in the durable goods sales. Inventories were boosted by autos and drugs. The data will help fine tune GDP estimates.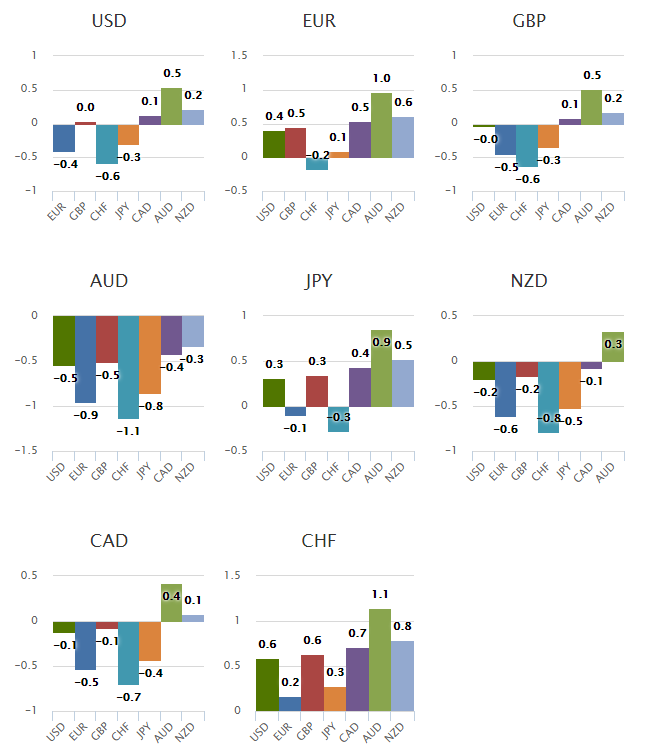 Currency Movers Charts
This is yet another day that the market participants are selling Australian dollar due to another currency devaluation in China. AUD is down against the competitors across the board while money has been flowing into CHF. This is a sign that markets are concerned about these surprise moves by the PBOC and feel the need of finding a safe haven. AUDUSD tested the 0.7237 support earlier today and has rallied slightly at the time of writing. The nearest resistance is now at 0.7315. EURAUD moved to the 1.5277 resistance and is now near to another resistance at 1.5332. GBPAUD is trading inside the upper daily Bollinger bands and has reacted slightly lower from the resistance.
Significant daily support and resistance levels for these pairs are: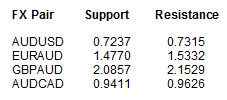 Main Macro Events Today
Main Macro Events TodayUK Claimant Account Change for July is expected to come in at 1.5k compared to previous figure of 7.0k.
Eurozone industrial production: there should be a decline in June production numbers of -0.1% m/m (median same0), after the disappointing German number. Data may be too backward looking to be a major market mover or change the overall outlook, but a weak number will add to prevailing risk aversion, especially after the surprise drop in the ZEW yesterday.
US Treasury Budget: July treasury data is out today and is expected to reveal a $149 bln (median -$129.8 bln) deficit for the month. This compares to a $51.8 bln surplus in June and a $94.6 bln deficit in July of last year. Receipts are expected at $224 bln, up 4.6% y/y with outlays at $374 bln, up 20.9% y/y.
Publication source
---
HotForex information
HotForex reviews
December 7, 2016
The pound has come under pressure in London trading today. EURGBP buying has been a driver, with the cross rallying some 0.5% to a peak of 0.8510, since ebbing to around 0.8490. Gains failed to sustain above the 20-day moving average, which is at 0.8503...
---
December 7, 2016
This morning saw a substantial drop in both the manufacturing production and industrial production in the UK for the month of October which comes as a timely reminder that the economy remains vulnerable. The pound ended its recent rise against the US dollar yesterday after hitting a 2-month high...
---
December 7, 2016
The U.S. dollar index managed to recover from a 14-day low on Monday at 99.87 with prices turning bullish yesterday. However, the gains remain limited within Monday's range with further upside likely to see the 100.80 resistance being established...
---