20 August, 2015
EURUSD, Daily
The FOMC minutes lacked clear signs of September rate hike and triggered a sharp move higher in EURUSD yesterday. The pair moved to upper 1.5 sd Bollinger band and is now trading inside 4h pivotal resistance and relatively close to a weekly resistance level at 1.1189. When price is trading near a higher time frame resistance, such as a weekly level at 1.1189, it is more challenging for the bulls to move prices higher and downward reactions from proximity of the level become more probable. The daily picture is now medium term bullish with the latest low being a (second) higher low and the high before that being a higher high. This suggests that there is now a daily uptrend in place and we should see EURUSD moving higher into the weekly resistance area over the coming weeks but longs should be timed at corrections. In the short term, the nearby resistance area could be a challenge for the bulls and we should keep an eye on how price reacts to the resistance levels. The nearest significant support and resistance levels are at 1.1015 and 1.1189.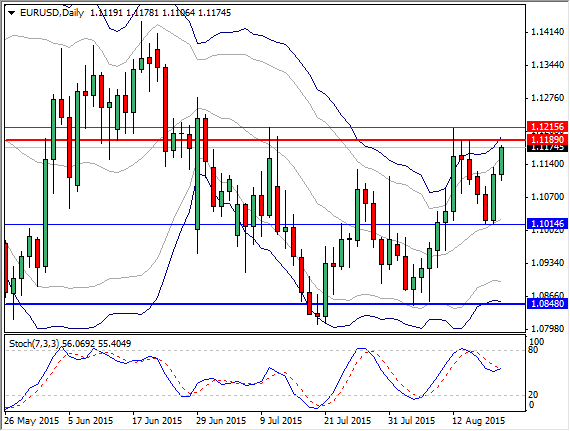 ESM rubberstamped the Greek bailout late yesterday, following the ratification in national parliaments this week and last Friday's approval by the Eurogroup. The ESM said EUR 13 bn will be paid out immediately and a EUR 10 bn bank buffer transferred to a segregated account at the ESM. EUR 3 bn are to be disbursed by the end of November, after further prior action from Greece. The ESM said the privatisation fund is to be established this year with a total targeted value of EUR 50 bn of assets to be sold. "Debt relief for Greece in the form of longer grace and payments periods, will be considered after the first review" in October/November and the IMF is expected to contribute "after European creditors adopt debt relief measures". Whether this form of "soft debt relief" will be sufficient to satisfy the fund remains the key question for IMF participation.
German producer prices continue to fall, with annual PPI inflation coming in at -1.3% y/y in July, up from -1.4% y/y in June, but still firmly in negative territory. The renewed decline in energy prices is keeping a lid on import prices and overall PPI, while this year's drop in the EUR is taking its time to feed through the product chain. Still headline rates are inching up from the lows seen at the start of the year and excluding energy the rate stood at -0.2% y/y in July. There never really was a great risk of a real deflationary spiral in Germany and with a tight labour market adding to wage gains and a rise in unit labour costs, while fueling consumption, inflation is seen trending higher over the next year.
FOMC minutes showed a leaning toward a hike, with most officials seeing conditions for liftoff approaching (minutes were leaked early). However, as of July, those conditions still hadn't been met. And the recent events from China make September a difficult call. While participants cheered the improvement in the economy since the weak Q1, validating their forecasts, a few were disappointed that growth was still lower than had been projected earlier in the year. On inflation, it's still expected to pick up, although some saw downside risks due to economic and financial developments abroad. The remarks on China were a little more expansive than usual. It said "several participants noted that a material slowdown in Chinese economic activity could pose risks to the U.S. economic outlook. Some participants also discussed the risk that a possible divergence in interest rates in the United States and abroad might lead to further appreciation of the dollar, extending the downward pressure on commodity prices and the weakness in net exports." Also of note, the Fed staff revised its inflation outlook down and price pressures are expected to remain below the 2% target through 2017.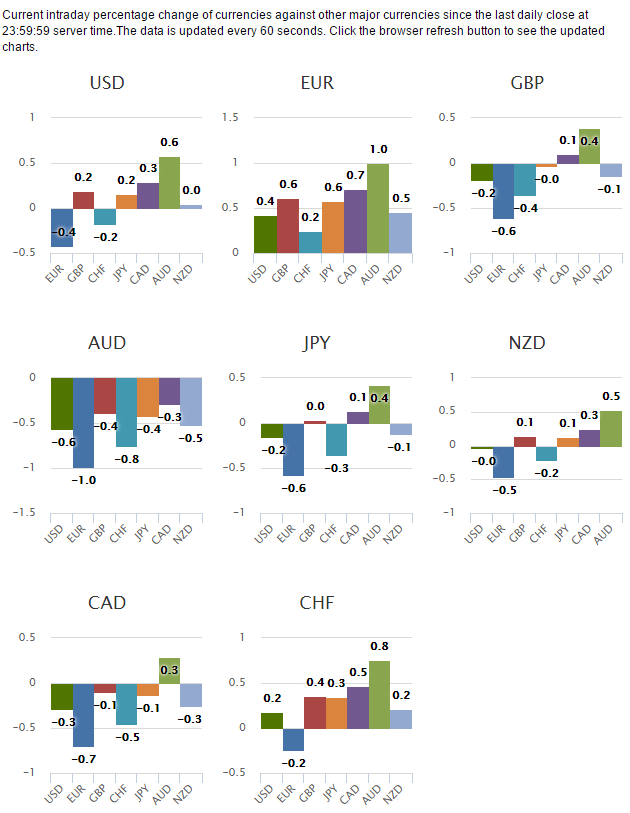 Currency Movers Charts
EUR has been strong today across the board while AUD has been losing ground especially against EUR. EURAUD has been trending higher over the past few weeks and the latest move EURUSD encouraged buyers in to take EURAUD to the recent highs at 1.53. EURCAD is another strongly trending pair moving towards a resistance at 1.4733. Since March this year, EUR has been moving higher against the CAD on the back of oil prices staying weak.
Significant daily support and resistance levels for these pairs are:
Main Macro Events Today
US Philadelphia Fed Index: The August Philly Fed is out Thursday and is expected to decline to 4.0 (median 6.5) from 5.7 in July. The already released Empire State index plunged in August, dropping to -14.9 from 3.9 in July with the ISM-adjusted measure falling to 44.9 from 50.0. This drop set a low back to 2009 and will be a source of downside risk for the remaining August producer sentiment reports.
US Initial Jobless Claims: Claims data for the week of August 15 is out Thursday and the headline is expected to fall to 266k (median 270k) from 274k last week and 269k in the week prior to that. Claims are poised to average 274k in August after a lean 272k in July.
US Existing Home Sales: July existing home sales data is out Thursday and should show a 1.6% slowdown in the headline pace to 5.400 million (median 5.440 million) from 5.490 million in June. The June headline set a new high back to '09. Already released measures of housing strength for July have remained firm with the NAHB rising to 60 from 59 and housing starts up to 1.206 million from 1.204 million in June.
---
Source link
---
---