21 August, 2015
EURUSD, Daily
Euro has been a funding currency for carry trades. Market participants have been borrowing in euros at near zero rates and investing in better yielding Asian economies where the rates are higher. Lately however carry traders (in short Euro positions) have been forced to unwind these investments as euro has been trending higher. The latest rally moved EURUSD far outside the upper Bollinger bands. This rally ran into a resistance at 1.1292, a daily low from June 19th. A move outside daily Bollinger bands and close to a resistance is likely to be reversed and price needs to move lower to find support levels from which to attempt to move higher again. The nearest support area is at 1.1189 -1.1216 but this area is rather high up in the range of the recent uptrend. If the recent momentum continues the this area can provide a level for a new reaction low but should that be violated a more reliable support area for EURUSD is closer to a weekly high of 1.0966 at 1.1018 – 1.1094.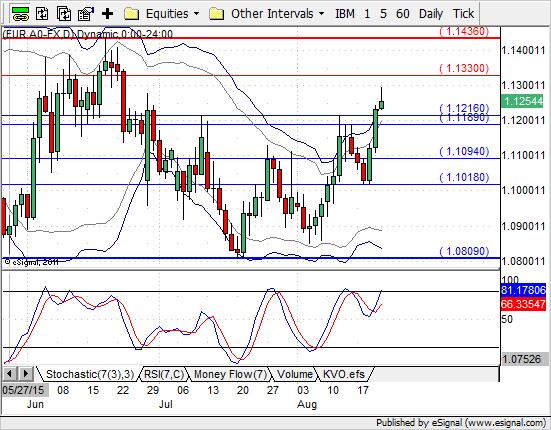 In terms of weekly picture and sideways movement we've seen since May this year the pair is getting a bit pricey. This limits the upside potential and should trigger a more careful approach to trading the long side. On the fundamental side Fed's lack of commitment to raising rates (evident in the latest FOMC minutes) and Chinese slowdown together with increased volatility in emerging markets raises the possibility that EURUSD will keep on appreciating. The CBOE Emerging Markets ETF Volatility Index has risen from July 17th low of 17.59 to 28.56 at the time of writing, a rise of 62.36%.
All this increases the likelihood that the Fed will start paying attention to the risk of adding more instability to these markets by increasing the rates. However, from a technical point of view, a resistance is a resistance until it has been penetrated. Therefore signs of reversal near weekly highs should be taken seriously and traded appropriately. Major weekly support area will be found between 1.0809 and 1.0996.
Greek elections to bring stability or more chaos? Tsipras decision to resign to pave the way for snap elections was not a total surprise, given the unravelling of Syriza amid the controversy over Greece's 3rd bailout. It is not clear yet when elections will be held, but a September 20 date, as an official yesterday suggested, would be ahead of the 1st bailout review and debt relief talks which raises some risks. Tsipras may be hoping that the vote will bolster his eroding power base and Eurogroup head Dijsselbloem said he hoped the elections will bring more stability and will come early. However, the reforms will hardly bring any real improvement in the short term and could still see anti-austerity forces gaining strength, which has the potential to throw Greece back to where it was earlier in the year, if a new left government doesn't want to see through the agreed reforms.
German consumers start to worry about growth outlook. The overall projection for consumer confidence in September came in weaker than expected at 9.9, down from 10.1 in August. The August breakdown showed a fresh drop in the reading for the economic outlook to just 16.6 less than half the 38.3 at the peak back in May. Income expectations are also coming off the boil and the willingness to buy is easing, which suggests the strong boost from consumption that has been helping the German economy to recover this year may taper off. This will add to concerns about the impact of the slowdown in China on the German economy.
The July US existing home sales rose 2.0% to a 5.59 mln new cycle-high clip extended the June surge to a 5.48 (was 5.49) mln prior cycle-high to leave an encouraging report overall. We now have cyclical gains of 62% for existing home sales and 44% for pending home sales, versus larger cyclical gains of 79% for new home sales, 152% for housing starts, and 118% for permits. More generally, the housing recovery lost steam after the Fed's taper talk and mortgage rate gains of mid-2013, and sales are just 5.3% above the 5.31 mln prior recent-peak in July of 2013 as we approach the presumed start of Fed tightening. Existing home sales fell 3.0% for 2014 overall to a 4.92 mln rate despite the underlying recovery, and we expect a 8% 2015 climb that brings us back to the mid-2013 sales pace. The percentage of all-cash transactions rose to 23% from 22% in June but a higher 24% over the prior three months, versus a much higher 29% last July. The downtrend is a good sign for ongoing repair in the mortgage market.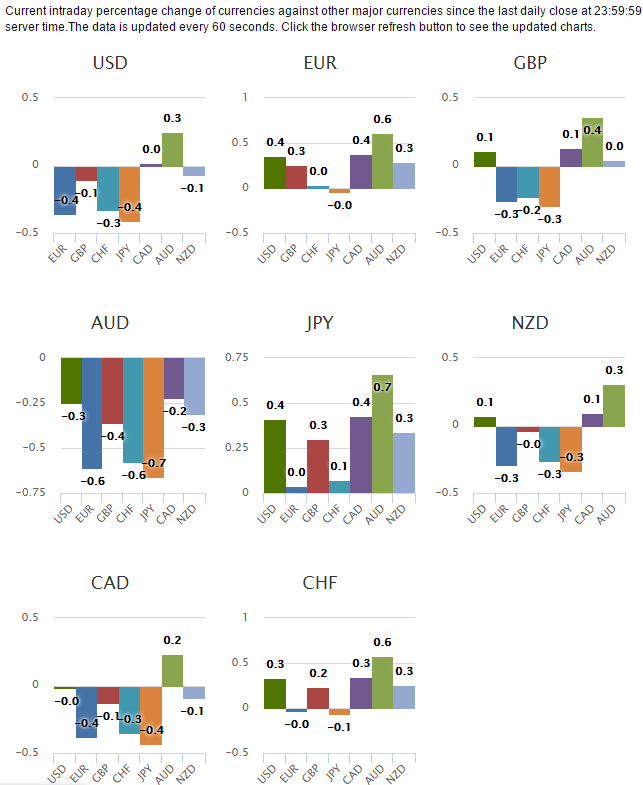 Currency Movers Charts
AUD is down again against all the major competitors while a safe haven currency JPY is benefiting from uncertainty that is clearly visible in the global stock markets. S&P 500 ended down over 2% yesterday while German DAX hadn't a single issue that rose yesterday. Today Shanghai Composite closed down by 4.7% while euro has been benefitting from carry trade unwinds. All this points to more unstable times ahead and is in line with my predictions on global stock markets May this year (tweet: Bull market for stocks is over). This should also translate into added volatility in the currency markets and provide traders with new opportunities.
Today's moves have driven AUDCHF and AUDJPY at support areas created by the lower daily Bollinger bands while EURAUD is trading near a pivotal weekly high from October last year.
Significant daily support and resistance levels for these pairs are:

Main Macro Events Today
China's manufacturing PMI fell to a preliminary 47.1 in August from a final 47.8 in July. The decline was contrary to expectations for some modest improvement and left the lowest reading since March of 2009. The report suggests the weakness evident in China's economy during July continued in August, ultimately exacerbating the China slowdown fears the have roiled global markets last week and this week.
Eurozone PMIs stabilise in August, with the manufacturing reading holding steady at 52.4 and the services number rising to 54.3. Better than Bloomberg consensus, with strong German orders data helping to boost the German manufacturing PMI, which compensated for another drop in the French reading.
Canada Retail Sales: We expect retail sales to rise 0.1% in June (median +0.3%) after the 1.0% bounce in May. The ex-autos sales aggregate is expected to rise 0.5% in June (median +0.5%) following the 0.9% gain in May. Gasoline prices rose 6.0% in June according to the CPI, which should boost total and ex-auto sales. We could see a sizable boost, suggesting upside risk to the total and ex-autos sales estimates.
Canada CPI should expand at a 1.4% y/y pace in July (median same at +1.4%) following the 1.0% y/y rate in June. CPI is seen rising 0.1% on a month comparable basis in June (median +0.2%) after the 0.2% gain in June. Gas prices were essentially flat in July compared to June.
---
Source link
---
---