August 26, 2015
---
EURUSD, Daily
The hope for a rebound in European stock markets didn't last long, and equities are selling off again, with the DAX down at the market opening and below the 10000 mark. China's rate cut yesterday by the People's Bank of China initiated a rebound in Asian equity markets. It seems the realization in Europe is that the underlying problem is due to the fact that emerging markets are slowing down. The Euro Stoxx 600 has dropped 12% in August so far, and is heading for the worst monthly drop since 2008.
The medium term view on the EURUSD, since price has traded through the May tops at the 1.1430's and then back under to touch below the 1.14 support on Tuesday, indicates that price still remains at risk of a continued retracement. The risk for longs is a re-visit towards the former major resistance 1.12 area where traders should watch for a potential higher low to develop before any attempt to retest the 1.17 recent high.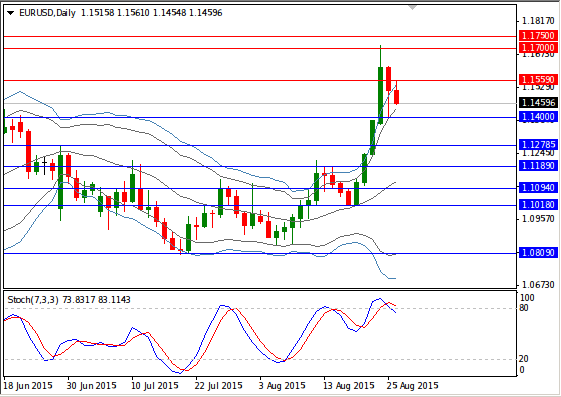 The USD gets some support as the U.S. consumer confidence rose sharply to 101.5 in August after climbing to 91.0 in June (revised from 90.9). It was 90.3 a year ago. This is the best level since March. The USD is trading mostly higher against the JPY, GBP, AUD and CHF, ahead of today's Core Durable Goods Orders data.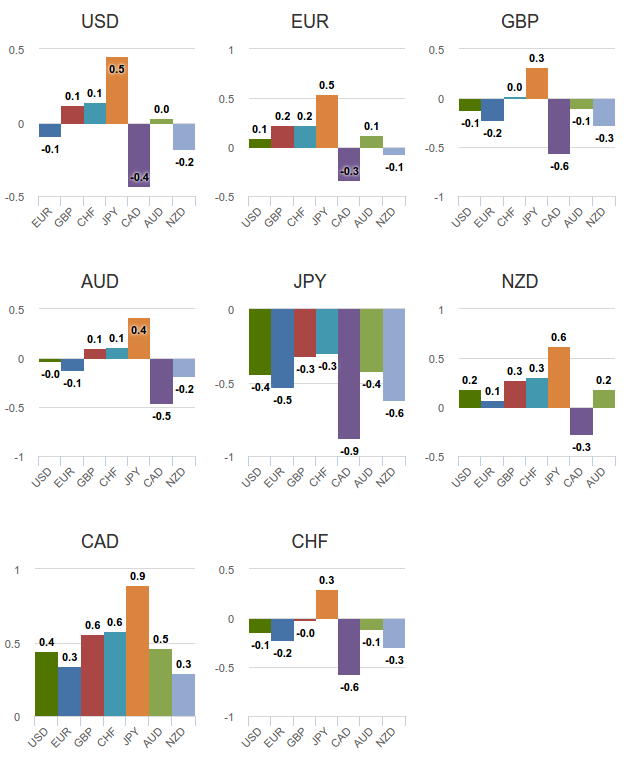 Currency Pairs, Grouped Performance (% change)
Current intraday percentage change of currencies against other major currencies since the daily close 23:59:59 server time.
The JPY is weakening across the board as regional stocks rose. The CAD is stronger against all majors as Crude prices firm up.
Significant daily support and resistance levels for these pairs are: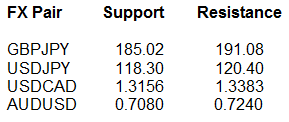 Main Macro Events Today
• USD Durable Goods Orders: July durable goods data is out today and should show orders up 1.0% (median -0.5%) following a 3.4% bounce in June. Markets expect shipments to be up 1.5% from 0.5% in June and inventories to be up 0.6%, the same pace as June. Data in line with this forecast would leave the I/S ratio down to 1.66 after two months at 1.68. There is some downside risk as Boeing orders fell to 101 in July from 181 in June.
• USD FOMC Member Dudley Speaks: Dudley is the President of the Federal Reserve Bank of New York.
Please note that times displayed based on local time zone and are from time of writing this report.
Publication source
---
HotForex information
HotForex reviews
January 19, 2017
Trump stated on Tuesday that a strong dollar is risky to the US economy, as it weakens competitiveness of US exports and corporate profits...
---
January 19, 2017
The U.S. dollar did an about turn yesterday after the Fed Chair; Janet Yellen said that the prospects for further rate hikes increased with the economy near its maximum employment and inflation moving towards the Fed's 2% goal...
---
January 18, 2017
German HICP confirmed at 1.7% y/y, as expected, with prices up 1.0% m/m. The sharp acceleration from just 0.7% y/y in November was mainly due to base effects from lower energy prices and the breakdown showed that prices for heating oil jumped 21.9% y/y in December...
---