August 27, 2015
---
EURUSD, Daily
The EUR is trading generally weaker after posting broad based declines yesterday, as lower energy prices has led to a 1.7% decline in German import price inflation. The current lower inflation trajectory will give the ECB an excuse to talk down the euro; speculators should not rule out any further ECB QE expansion in the wake of the recent global market turmoil. I continue to see EURUSD risk to the downside in the immediate short term as price may attempt to re-test the mid to low 1.12's where buyers could potentially emerge to support the pair.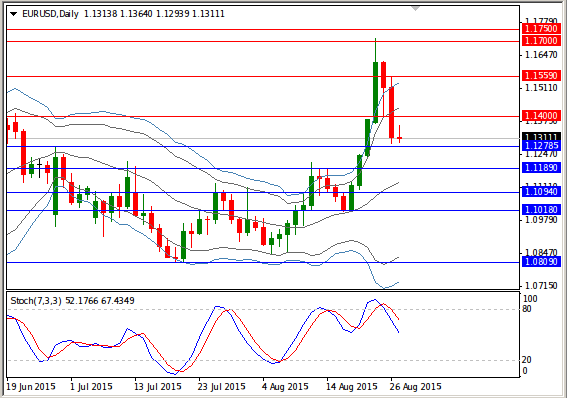 European stock markets are broadly higher, following gains on Wall Street and in Asia, with the Shanghai Comp managing to extend gains in late trade closing with a 5.34% gain. The Nikkei closed 1.08% higher and the Hang Seng is up nearly 3%. In Europe, most markets are up around 2%, with the DAX leading the way with a 2.34% gain – the FTSE 100 is up 2.07% and the Euro Stoxx 2.20%.
Downbeat central bank comments are adding to market support with rate hike expectations in the U.S. and the U.K. being pushed back and the increased possibility that the ECB will move further into QE. Volatility is likely to remain high in this climate of uncertainty about the world growth outlook.
Dovish Fed speaking from Dudley, who said a September rate hike "seems less compelling to me" than a few weeks ago, had an impact on the markets with the Dow Jones closing up nearly +3.95% in Wednesday trade.
Currency Pairs, Grouped Performance (% change)
Current intraday percentage change of currencies against other major currencies since the daily close 23:59:59 server time.
The JPY continues to trade weaker across the board as the USDJPY bounces off the recent 1.1616 monthly low to break through to the upside of the 120's.
The commodity driven currencies; AUD, CAD and NZD, are all trading stronger as Copper, Gold and Crude Oil firm up. The GBP remains mixed as cable traders digest the previous session's sharp sell off of the GBPUSD.
Significant daily support and resistance levels for these pairs are: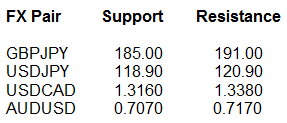 Main Macro Events Today
• USD Gross Domestic Price Index (Q2): The second release on Q2 GDP is out today and we expect the headline to be revised up to 3.5% (median 3.3%) from 2.3% in the first release. Construction spending and inventories are expected to lead the revisions. We expect construction spending to be revised up by $17 bln, inventories by $16 bln, consumption by $11 bln and net exports and equipment spending should both be revised up by $2 bln.
• USD Initial Jobless Claims: Claims data for the week of August 22nd are out later today and should reveal a decline in the headline to 274k (median 275k) after an increase to 277k in the August 15th week. Claims are continuing at restrained levels in August and we expect the average for the month to be 274k which compares to 272k in July and 277k in June.
Publication source
---
HotForex information
HotForex reviews
December 2, 2016
Revealed a solid 53.2 November ISM reading and a 0.5% October construction spending rise that followed big upward Q3 revisions, both of which lifted prospects for GDP. We also saw a 17k Thanksgiving week spike in claims that reversed the remarkably tight 333k Veteran's Day figure...
---
December 2, 2016
I do apologise in advance for bombarding you with lots of commodity reports, but ahead of Friday's NFP report, the FX markets tend to create lots of false moves, so it is difficult to make much of todays moves...
---
December 2, 2016
Its payrolls Friday and the markets are expecting to see a solid print for November following Wednesday's ADP payrolls increase. Yesterday, the ISM and Markit's manufacturing PMI showed a strong increase in the reading...
---