10 September, 2015
EURUSD, Daily
EURUSD moved further into the pivotal support yesterday as I expected. The 4h lower Bollinger Bands where able to support price and sent the pair rallying higher. There were good sized rallies in all the euro pairs which suggest that institutional money was flowing into EUR, but there seems to be no news event that could explain the rally. Euro pairs run into resistance levels and have been reacting lower over the last few hours. In EURUSD this is reflected in the pair once again trading lower from 1.1214 area. Even though there is a slight upward bias I expect low volatility to remain as the pair is bound by nearby support and resistance levels. The downside is limited by 1.1018 – 1.1093 and the upside by 1.1208 – 1.1332 candle. S&R levels beyond these are 1.1018 and 1.1334. Intraday price finding support at an area near 4h 50 period SMA. This same level used resist moves higher over the last few days.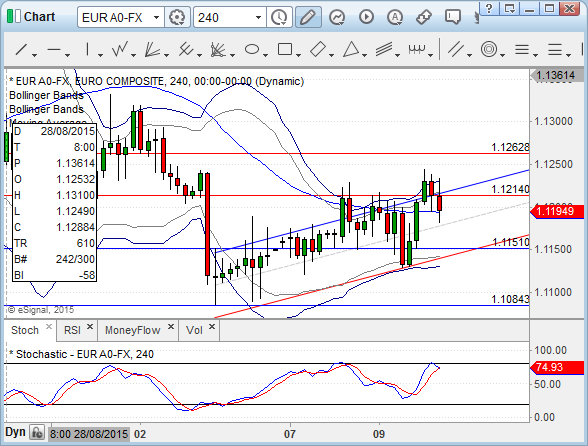 A big NZD dive was the main action in pre-Europe trade in Asia after the RBNZ cut its growth outlook for the New Zealand economy and called for more currency weakness. This followed its expected decision to cut the official cash rate to 2.75% from 3.0%. NZDUSD dove just over 2% in making a three-day low at 0.6256. AUDNZD rallied strongly, with the RBNZ's guidance contrasting a strong employment report out of Australia, which saw employment rise by 17.4k, above the 5.0k median forecast.
The data saw AUDUSD rebound to the 0.7020 area from a low at 0.6946. Elsewhere, USDJPY rebounded smartly from a test of 120.00, which was seen as Japanese stock markets corrected some of yesterday's outsized gains. Yen losses were sparked by remarks from Japanese politician Yamamoto, who called the BoJ to expand QQE at its upcoming Oct 30 meeting. His remarks came as Japanese data showed PPI remaining in deep deflationary territory, and machine orders showing another contractionary quarter in capital expenditure. USDJPY spiked to a peak of 121.35 before settling to the 120.65-70 area. EURUSD, meanwhile, re-established itself above 1.1200.
UK house prices are surging, with the August RICS house price balance rising to a 15-month high of 53 from 44 in the previous month, while the August Halifax price index jumped by a large 2.9% m/m to bring the y/y measure up to +9.0% from July's 7.9% rate. RICS doubled its forecast for price rises to 6% from 3%, reporting that properties for sale are at a three-year low. The demand-supply imbalance, coupled with robust economic momentum and record employment records, along with historically low mortgage rates and a government scheme to subsidize house purchases, are underpinning the market.
Bank of Canada Holds Rates Steady as Economy Underpinned The BoC left the 0.50% policy rate unchanged, as economic growth and inflation have been consistent with their outlook. Most tellingly, the dynamics of Canada's GDP growth projected in July remain intact, with economic activity underpinned by household spending and a firm recovery in exports. But downside risks remain, notably in the form of uncertainty related to China and emerging markets. The Bank has moved back to the sidelines, and we expect the current ultra-accommodative rate setting to remain in place through 2016.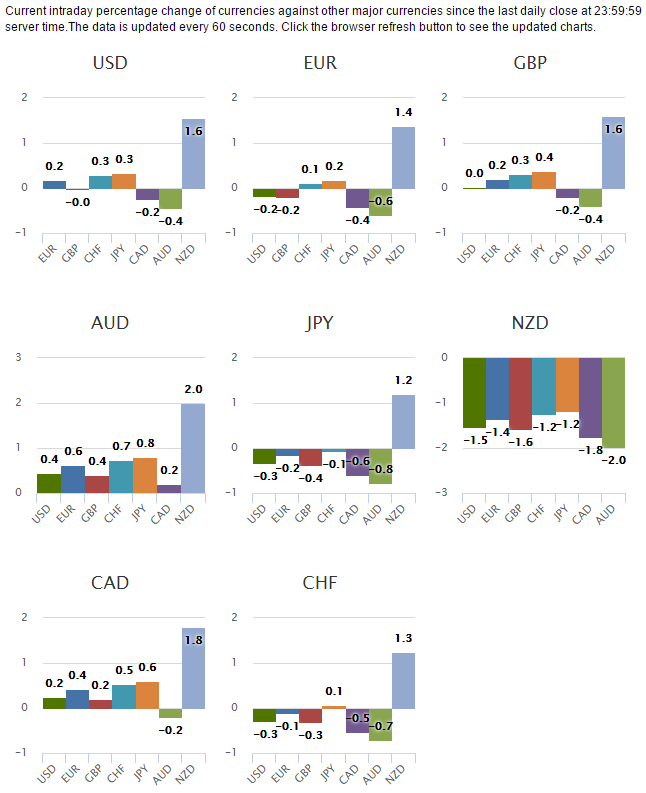 Currency Movers Charts
Reserve Bank of New Zealand cut rates for the third time in three months. The current rate is 2.75%, down 0.25% from the previous 3% rate. This sent NZD down by as much as 2.0% against AUD at the time of writing. According to the RBNZ the economy is adjusting to the sharp decline in export prices, and the consequent fall in the exchange rate. The bank also commented on global environment: Global economic growth remains moderate, but the outlook has been revised down due mainly to weaker activity in the developing economies. Concerns about softer growth, particularly in China and East Asia, have led to elevated volatility in financial markets and renewed falls in commodity prices. The US economy continues to expand. Financial markets remain uncertain as to the timing and impact of an expected tightening in US monetary policy.
AUDNZD has rallied strongly and the pair is approaching the upper Bollinger Bands and a pivotal resistance in the daily time frame. EURNZD rallied to a similar resistance in a 4h chart and has turned lower. GBPNZD chart is almost an identical copy of EURNZD while NZDUSD trades near support.
Significant daily support and resistance levels for these pairs are: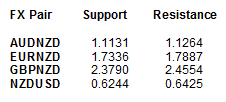 Main Macro Events Today
China's CPI improved to a 2.0% y/y pace in August from the 1.6% y/y pace in July and 1.4% clip in June. The pick-up to the fastest CPI growth rate in a year during August would appear modestly encouraging given the government's efforts to boost growth (which should presumably eventually lift prices). But a lack of supply for pork drove prices of that key meat product higher, lifting total CPI and undercutting a demand driven explanation for the CPI jump in August. Meanwhile, August PPI remained weak at a -5.9% y/y clip after the -5.5% y/y rate in July. That's the worst pace of annual decline in six year, reflecting the plunging fortunes of China's factor sector.
Bank of England meeting: BoE MPC's September meeting, which is now replete with the instant release of the minutes, will be the main event for sterling markets this week. With the August PMI surveys signalling the weakest growth for over two years, and signs that retail sales are slowing, along with concerns about global market volatility, we expect the minutes to reveal a more dovish tone than was the case at the early August meeting. The MPC should leave the repo rate at 0.5% — where its been since March 2009, and where its likely to remain until Q2 next year — and the QE total at GBP 375 bln. The vote is likely to be 8-1 in favour of holding the repo rate unchanged, with last month's sole dissenter McCafferty, likely to persist with his vote for a 25 bp hike.
U.S. Initial Jobless Claims Preview: Initial claims data for the week of September 5th are out on Thursday and should show a drop back to 267k (median 275k) after a bounce to 282k in the week of August 29th. Despite the slightly lower August payroll headline of 173k, claims have continued along a tight path. We expect September claims to have 275k, matching the August average but exceeding July 272k average.
---
Source link
---
---