October 13, 2015
---
EURUSD, Daily
With markets trading in quiet mode yesterday because of the bank Holiday's in the U.S., Canada and Japan traders should expect to see price action pick up as traders get back to work after the extended weekend.
EURUSD daily still remains contained within the 1.1460 (Top) 1.1090 (Bottom) range, with current price now trading comfortability above the key support (1.1280) with the pair not showing any signs of leaving a new lower top from the 1.17 August high. I see upside potential in the immediate short term to be limited to around the 1.1440 – 1.1460 levels, before selling pressure emerges, however, since bullish price momentum still remains present there remains the risk for sellers of a price extension towards the 1.15 – 1.1530′s.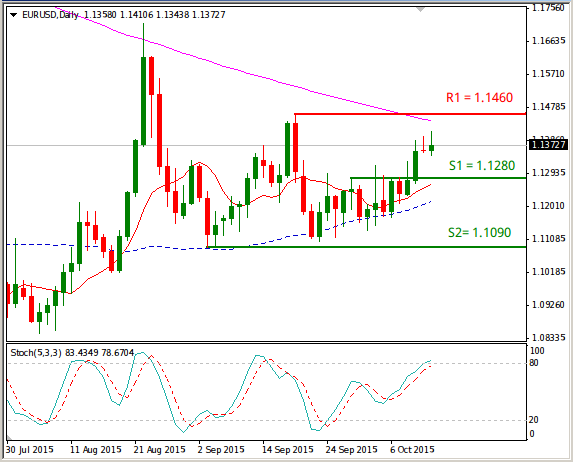 Asian stock markets are mostly lower in overnight trade as weaker than expected trade data out of China put pressure on commodities and overall market sentiment. The drop in Chinese imports added to the fall in oil prices yesterday. U.K. BRC retail sales came in much stronger than expected.
The USD traded weaker in quiet Monday trading with fresh losses against the EUR, AUD and NZD, while the JPY is still flat. The general weakness in the USD is a continuation of selling seen in the wake of last week's release of the FOMC minutes, which have seen the odds for a Fed rate hike expectations shifted towards year end or even further out.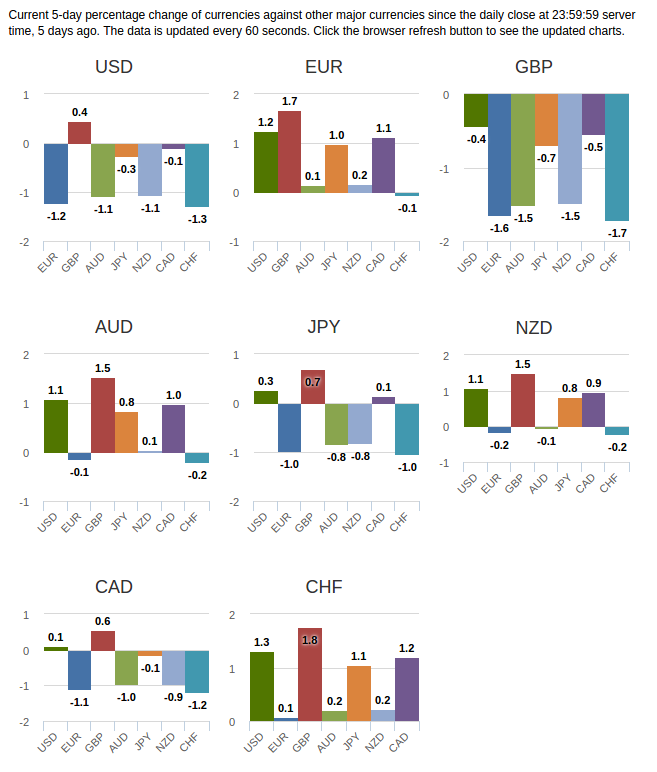 Currency Pairs, Grouped Performance (% change)
The USD over the last 5 day trading sessions has been to the downside sparked by the latest release of the FOMC meeting minutes which have seen the odds for a Fed rate lift-off by year-end lengthen. The GBP is lower across the board in the wake of lower trade balance that fell in August to GBP-3.27 billion from GBP-4.4 billion in July while the forecast was for a GBP 2.5 billion deficit. The AUD has been outperforming as higher commodity prices and hopes of more prolonged stays of ultra-accommodative monetary policy at the Fed and BoE give AUD buyers reason to support price.
Significant daily support and resistance levels for these pairs are: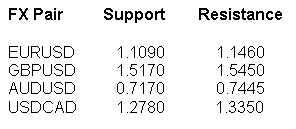 Main Macro Events Today
• EUR German HICP: Was confirmed at -0.2% y/y, national CPI at 0.0% y/y, as expected. The breakdown, which was released for the first time, confirmed that lower energy prices are the main reason behind the negative headline rate. Prices for heating oil were down 27.9% y/y in September and petrol prices dropped 13.8% y/y. Excluding both household energy and petrol the annual rate stood at 1.1% y/y, still below the ECB's 2% limit for price stability but far above the headline rate and the risk of a real deflationary spiral is very small, which means the ECB won't need to react to the drop in headline inflation numbers, even if they keep easing speculation alive.
• GBP Consumer Price Index: The Consumer Prices Index (CPI) fell by 0.1%, compared to no change (0.0%) in the year to August 2015. A smaller than usual rise in clothing prices and falling motor fuel prices were the main contributors to the fall in the rate. The rate of inflation has been at or around 0.0% for most of 2015.
• EUR German ZEW Survey: Investor sentiment fell more than expected to 1.9 from 12.1. Market sentiment is swinging between concerns about the global growth outlook and hopes that monetary stimulus will remain in place for longer than previously thought and that this will prevent a substantial deceleration in growth.
Publication source
---
HotForex information
HotForex reviews
December 2, 2016
Revealed a solid 53.2 November ISM reading and a 0.5% October construction spending rise that followed big upward Q3 revisions, both of which lifted prospects for GDP. We also saw a 17k Thanksgiving week spike in claims that reversed the remarkably tight 333k Veteran's Day figure...
---
December 2, 2016
I do apologise in advance for bombarding you with lots of commodity reports, but ahead of Friday's NFP report, the FX markets tend to create lots of false moves, so it is difficult to make much of todays moves...
---
December 2, 2016
Its payrolls Friday and the markets are expecting to see a solid print for November following Wednesday's ADP payrolls increase. Yesterday, the ISM and Markit's manufacturing PMI showed a strong increase in the reading...
---