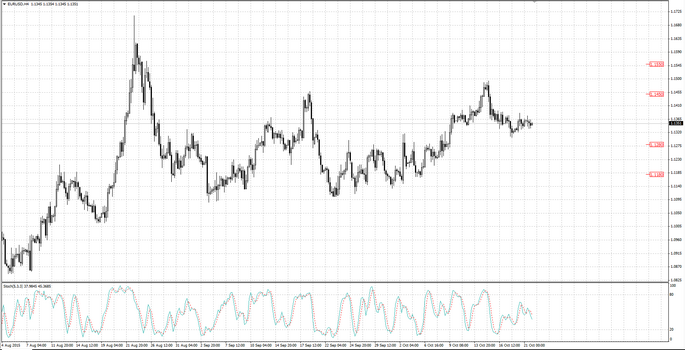 October 22, 2015
---
The major pairs continued to consolidate in the narrow ranges amid the lack of relevant data. The market completely ignored the published economic statistics. The euro zone improved lending conditions news was an exception which led to the short-term pressure on the US dollar. Apparently, traders are waiting for the new guidelines and they determined to wait when the ECB will announce its monetary policy decisions.
Investors liked the ECB lending survey results which showed that the quantitative easing program bears its fruits, improving the credit conditions. It could set up to the concerns decrease that the ECB would expand the bond purchase program. However, the euro interest has been short-lived and the euro was almost back to their original positions by the end of the day.
There were "cable" short-term purchases amid the Bank of England J. McCafferty harsh comments who said that the bank should start the interest rates rising now to get the interest rate gradual and steady growth. However, this rhetoric has supported the British currency for a short time. The pound showed a lateral movement.
The Japanese yen fell against the dollar. Obviously, the mood, connected with another monetary easing at the next BoJ meeting and the US interest rates increase is the main topic for the yen traders. The agencies polls show that the traders' percentage who believe in incentives volume growing has been increasing. The pair stopped in the middle of the trading day then the price changed the direction to the downward one.
Publication source
---
Fort Financial Services information
Fort Financial Services reviews
December 8, 2016
U.S. equities edged higher to post new highs in yesterday's trading marking one of the strongest one day gains since the November elections. The DJIA gained 1.6% while the S&P500 closed with 1.3% gains...
---
December 8, 2016
US markets saw a massive rise today as the Dow was up 300 points and the S&P 500 was up 29 points showcasing that investors believe the advent of Trump will have a positive effect on the US economy.
---
December 7, 2016
The pound has come under pressure in London trading today. EURGBP buying has been a driver, with the cross rallying some 0.5% to a peak of 0.8510, since ebbing to around 0.8490. Gains failed to sustain above the 20-day moving average, which is at 0.8503...
---