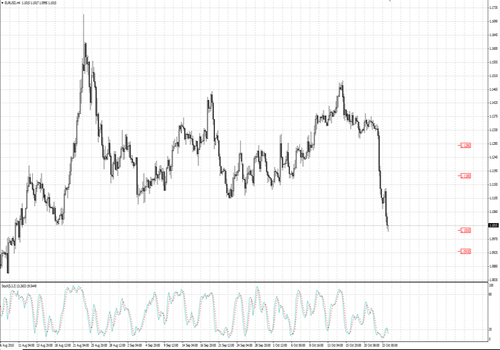 October 26, 2015
---
The dollar has sharply grown against all its major opponents last week. The reason for the growth activity was the ECB meeting where they decided the Eurozone monetary policy prospects. The European Central Bank did not change the monetary parameters, however, the governor M. Draghi's "dovish" tone supported the US dollar not only against the euro, but also against other majors. Also the Chinese central bank cut its interest rates to 4.35% which is primarily affected the oil market.
Draghi signaled about his readiness to expand the incentive programs and hinted that this decision may be taken this December.The euro fell after his words against the dollar and other reserve currencies
The British pound also fell against the dollar amid the ECB news, still it suffered fewer losses than its main currency colleagues. Obviously, the pound relative stability was due the fact that even before the European Bank recent reports the UK economic data marked the September retail trade very impressive results. The UK retail sales rose up by 1.9% m/m compared to the previous month, but in annual terms it rose up by 6.5% y/y which was much better than the forecast, it was expected 0.3% m/m and + 4.8% y/y after -0.4% m/m, 3.5% y/y in August.
The Bank of Japan further monetary policy easing continues to put pressure on the yen. The October manufacturing sector business activity index preliminary data was published, the result turned out to be much stronger than the forecasts 52.5 after 51.0 while it was expected to see 50.6. Still this indicator did not have significant impact on the market.
Publication source
---
Fort Financial Services information
Fort Financial Services reviews
February 27, 2017
Price is dropping nicely towards our profit target. We remain bearish below 1.0604 resistance (Fibonacci retracement, Fibonacci extension, horizontal overlap resistance) for a further push down to 1.0494 (Fibonacci extension, horizontal support)...
---
February 27, 2017
Spot gold remained on strong bullish footing on Friday. After an Asian flat the price got an upward impetus in the European morning...
---
February 24, 2017
Gold surged Thursday on a breakout of its previous consolidation to hit and slightly exceed major technical resistance at $1250, a level not seen since early November...
---