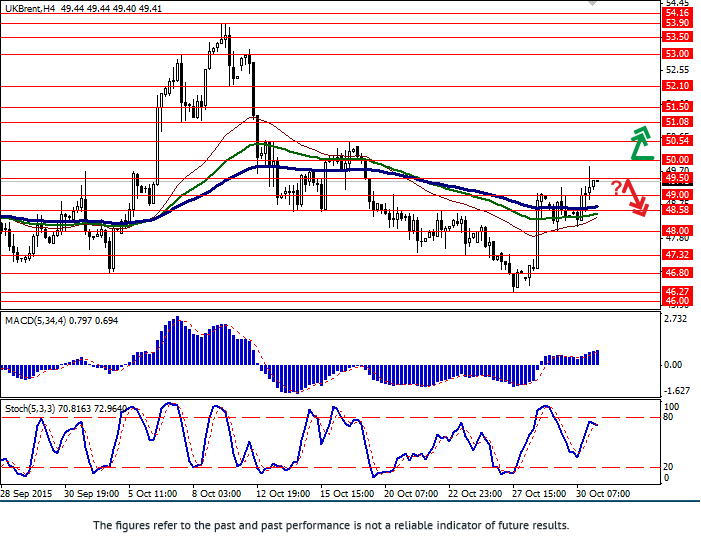 November 2, 2015
---
Current trend
At the end of last week, the price of Brent crude oil strengthened moderately, being supported by the weakness of the US dollar which failed to hold its positions, gained after the recent Fed meeting.
At the same time, the oil prices remain under pressure from, first of all, strong imbalance between supply and demand, which is getting worse amid the Iranian situation and OPEC's decision to raise production quotas. Analysts suggest that the oil market will be facing continued oversupply until the second half of 2016.
Support and resistance
Bollinger bands indicator on the daily chart is directed horizontally, while the price range remains unchanged during several days. MACD is growing and keeping a moderate buy signal. Stochastic has reached the overbought zone and turned horizontally.
It is recommended to wait for clearer trading signals.
Support levels: 49.00, 48.58, 48.00, 47.32, 46.80, 46.27 (27 October low), 46.00.
Resistance levels: 49.50, 50.00, 50.54 (16 October high), 51.08, 51.50, 52.10.
Trading tips
Open long positions after the breakout of the level of 50.00 (with appropriate indicators signals) with targets at 50.80, 51.00 and stop-loss at 49.70. Validity – 1-3 days.
Open short positions when the price turns down and breaks down the level of 49.00 with targets at 48.40, 48.00 and stop-loss at 49.30. Validity – 1-3 days.
Publication source
---
LiteForex information
LiteForex reviews
December 8, 2016
U.S. equities edged higher to post new highs in yesterday's trading marking one of the strongest one day gains since the November elections. The DJIA gained 1.6% while the S&P500 closed with 1.3% gains...
---
December 8, 2016
US markets saw a massive rise today as the Dow was up 300 points and the S&P 500 was up 29 points showcasing that investors believe the advent of Trump will have a positive effect on the US economy.
---
December 7, 2016
The pound has come under pressure in London trading today. EURGBP buying has been a driver, with the cross rallying some 0.5% to a peak of 0.8510, since ebbing to around 0.8490. Gains failed to sustain above the 20-day moving average, which is at 0.8503...
---