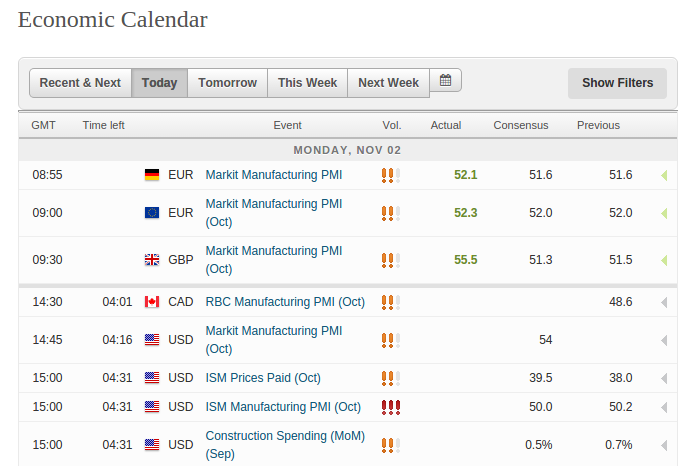 November 2, 2015
---
FX News Today
The GBP is slightly higher, against the EUR and USD after a much stronger than expected U.K. Manufacturing PMI reading. The unexpected jump in the manufacturing PMI, which has lowered the chances that the BoE will remove its implicit tightening bias. Gains against EUR, JPY and USD are modest however.
Eurozone manufacturing PMI, All Eurozone PMI readings apart from Greece are above the 50 point no change mark and even in Greece, confidence is improving further. Still, while the numbers signal a slight uptick in manufacturing output at the start of the last quarter, growth in the manufacturing sector is hardly buoyant and the sector is feeling the strain from the slowdown in emerging market economies, most notably China.
Eurozone stock markets are higher, the FTSE 100 is underperforming and posting slight losses, despite much better than expected PMI readings.
Worries over China's growth, the official manufacturing PMI held steady at 49.8 in October, disappointing expectations for a bounce back to the 50.0 expansion-contraction line. It's a third straight sub-50 reading. The non-manufacturing index slipped to to 53.1 from 53.4, still reflecting expansion but is the slowest pace since December 2008.
Greek banks need EUR 14.4 bln recapitalization, the ECB said in its Asset Quality Review, published Saturday, that Greek banks need at least EUR 4.4 bln from shareholders and bondholders to meet the shortfall identified under the current baseline macroeconomic assumptions.
Turkish lira soars, with stocks on Erdogan election success. The currency jumped the most since 2008 according to Bloomberg calculations after Erdogan's AK Party won the second election this year. This ends months of political deadlock and gave a boost to stocks, as well as bonds, with 10-year yields dropping to the lowest level in three months.
Main Macro Events Today
• GBP U.K. manufacturing PMI: Jumped to 55.5 in October from 51.8 in September. A much stronger than expected reading and in fact the highest since June last year. The new orders number jumped to 56.9 from 52.9 in the previous month and is at the highest level since July 2014. GBP is slightly higher against EUR and USD and the Gilt contract has extended losses on the strong number that will back the arguments to maintain the BoE's tightening bias.
• EUR Markit Manufacturing PMI: EMU Oct manufacturing PMI revised up to 52.3 from 52.0 reported initially and versus 52.0 in the previous month. National readings had been mixed, but with Spanish and French numbers slightly lower than expected, while the Italian reading surged higher and the German PMI was revised up markedly with the final release.
• USD ISM Manufacturing PMI: The manufacturing index is estimated edging up to 50.5 from 50.2 in September, though that's just barely in expansionary territory.
• CAD RBC Manufacturing PMI: If the results are in line with consensuses, especially on trade and employment, this would be supportive of the Bank of Canada's constructive view on the growth and inflation outlook as detailed in the October Monetary Policy Report.
John Knobel
Senior Currency Strategist
Publication source
---
HotForex information
HotForex reviews
December 6, 2016
Morgan Stanley strategists believe that the ECB will keep rates on hold at this week's meeting, but can expand its QE purchase program. But they consider different scenarios with various responses from the euro...
---
December 6, 2016
The single currency opened Monday on a bearish note but managed to pare losses as investors brushed aside the Italian referendum results. EURUSD closed at a 2-week high right near the resistance level of 1.0765 as noted in yesterday's commentary...
---
December 6, 2016
Risk aversion intensified during early trading on Monday following reports of Italian Prime Minister Matteo Renzi experiencing a crushing defeat in the referendum on constitutional reforms which sparked concerns of renewed political instability in Europe...
---