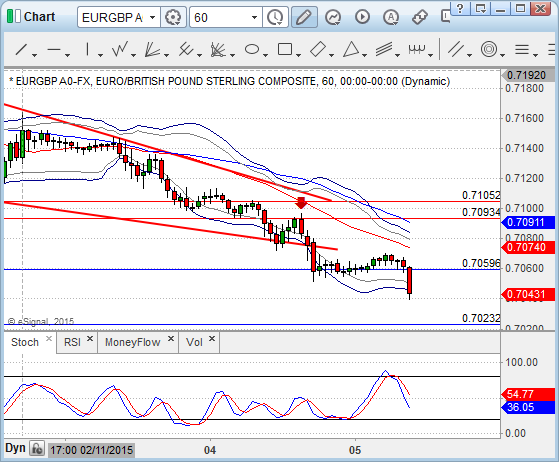 November 5, 2015
---
I wrote in yesterday's analysis on EURGBP: At the time of writing the pair is trading at the supporting end of the wedge. This market is still in a sell the rallies mode with the nearest resistance levels at 0.7093 and 0.7105. The nearest 240 min support is at 0.7060 while the next daily support can be found at 0.7027.
Those that have been to my webinars knew exactly how to get into a short trade and had a low risk trade opportunity as EURGBP hit the 0.7093 resistance identified in the report. The pair hit the first support yesterday and after some consolidation has now resumed the downward momentum. Those that used the position management technique they have learned in the webinars have now a profitable and risk free trade. You are most welcome to join me to the webinars and learn how to find and trade these opportunities. Register now. It's free.
Today is a so called super Thursday, a day when Bank of England publishes not only the interest rates decision but also the quarterly inflation report. No changes are anticipated from the BoE. As Governor Carney has pointed out on at least two occasions since mid-summer, the possibility of a rate hike will be in "sharper relief" at the end of the year, so the implicit tightening bias remains in place. Still, the minutes will be of considerable interest, along with the Quarterly Inflation Report, which will bring new projections on inflation and growth. We expect the minutes to reveal a 8-1 vote to keep the repo rate unchanged at 0.5%, with the lone hawk McCafferty maintaining his dissent for a quarter point hike for a fourth straight month.
The Inflation Report should reveal downward nudges to both inflation and growth forecasts in the nearer-term part of the forecast horizon following disappointing prelim Q3 GDP growth and an unexpected return to negative inflation readings in September.
Publication source
---
HotForex information
HotForex reviews
December 2, 2016
Revealed a solid 53.2 November ISM reading and a 0.5% October construction spending rise that followed big upward Q3 revisions, both of which lifted prospects for GDP. We also saw a 17k Thanksgiving week spike in claims that reversed the remarkably tight 333k Veteran's Day figure...
---
December 2, 2016
I do apologise in advance for bombarding you with lots of commodity reports, but ahead of Friday's NFP report, the FX markets tend to create lots of false moves, so it is difficult to make much of todays moves...
---
December 2, 2016
Its payrolls Friday and the markets are expecting to see a solid print for November following Wednesday's ADP payrolls increase. Yesterday, the ISM and Markit's manufacturing PMI showed a strong increase in the reading...
---