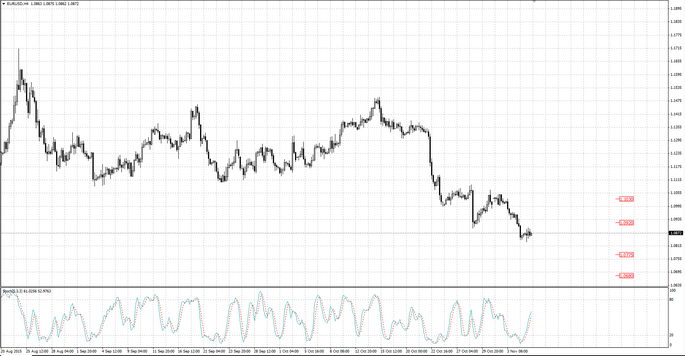 November 6, 2015
---
The euro fell against the dollar, the yen and the British pound. Not only the US messages put pressure on the euro. The European bloc news also reduced the demand for the euro. The Markit service sector indicators last estimate showed the initial data correction towards an increase in the euro area and Germany as a whole. The October service sector purchasing managers index (PMI) fell to 54.1 from 54.2 and to 54.5 from 55.2 in the largest European economy. Accordingly, composite indicators were reduced, including also the manufacturing sector data.
The British pound was also sold against the dollar on the yesterday's trades, but in this case, the main factor was the pressure caused by the US economic data and the Fed governor statements. The UK economic statistics has given good results on the service sector activity that is the main economic field. According to the Markit Company, the UK service sector PMI (PMI) rose up to 54.9 in October from 53.3 in September when the forecast assumed that it would be decreased only to 54.5. This increase could signal that the 3rd quarter national economy slowdown could be temporary for the first time since June.
The pair USD/JPY continued to rise and has risen to the new intraday highs. Additional support for the dollar against the Japanese currency came from the US economic data and the Fed speech. Yesterday Japan did not publish anything important.
Publication source
---
Fort Financial Services information
Fort Financial Services reviews
January 24, 2017
The UKs Supreme Court will be giving its verdict in the High Court on whether the Brexit referendum should be put to a parliamentary vote or note. There is a widespread consensus that the Supreme Court will rule in favor of the High Court...
---
January 24, 2017
Oil prices were initially weaker at the start of the new week, but they have now recovered to trade almost flat at the time of this writing. At the weekend, the OPEC and some producers outside of the group met to discuss the progress of their oil production deal...
---
January 24, 2017
Asian stock markets were mixed overnight, with Japanese bourses still under pressure (Nikkei closed down 0.55%). despite a dip in the Yen, as USD stabilised. Uncertainty over Trump's regulatory and trade policies continues to weigh on investor sentiment...
---