19 November, 2015
The USD is lower across the board against other G7 currencies and emerging-world currencies.
The AUD outperformed against the USD, although off from intra-day highs. AUDUSD recorded a 15-day high at 0.7176.
The EURUSD fell to new 7-month lows of 1.0617 in Wednesday trade, as the FOMC minutes didn't really clear up whether or not December rate lift off will occur.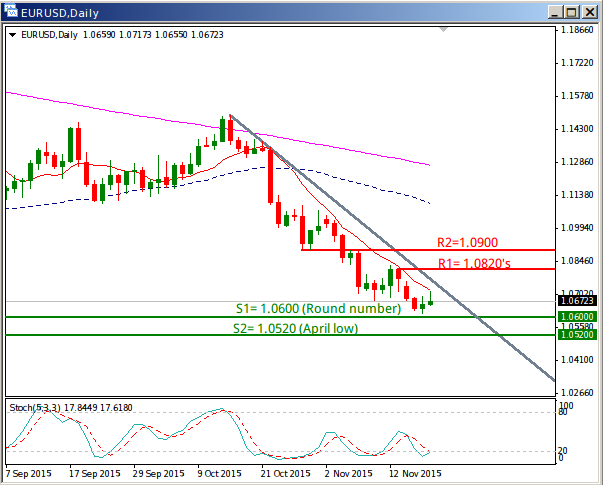 EURUSD, Daily
EURUSD lifted to a three day high of 1.0717 in the wake of the U.S. Fed FOMC minutes; the EUR though is still a bearish market, and with the inevitable interest differential widening becoming more apparent, the USD will continue to grind higher against the EUR over time until we see a shift in the ECB policy. Draghi's previous comments on lower core inflation will further add pressure for the EUR. Technically, the EURUSD may correct higher towards 1.0820′s ahead of a further drive lower for a retest of the April lows at 1.0520.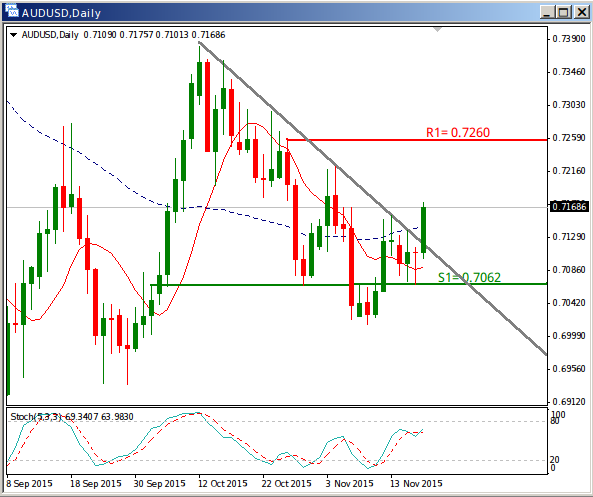 AUDUSD, Daily
A rebound from lows in commodities has supported the AUD. Technically, the recent bullish momentum on the AUDUSD pair should continue since stochastic analysis indicates continued upward momentum and current price has broken to the upside of the downward slopping trend-line. A solid close above today's trend-line break should enable buyers to make further commitments to drive price towards the 0.7260-0.7290 areas before the continuation of its longer term downtrend for a 0.7062 target.
---
Source link
---
---