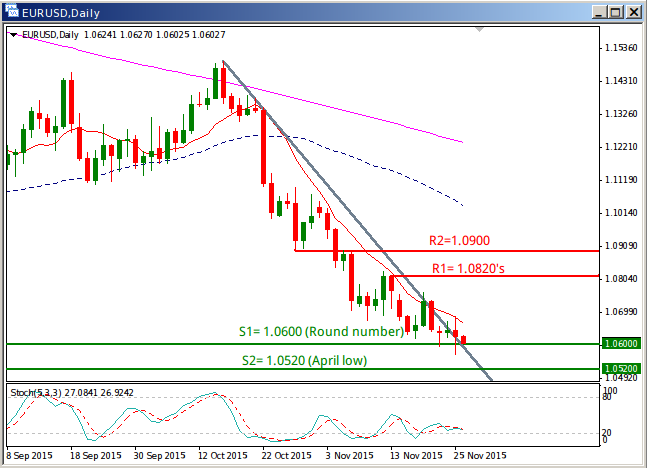 November 26, 2015
---
EURUSD, Daily (Updated)
EURUSD touched fresh 7-month lows of 1.0565, before rallying back over 1.0600, with pre-holiday short covering in play. The EUR, though, is still a bearish market, and with the inevitable interest differential widening becoming more apparent, the USD will continue to grind higher against the EUR over time, until we see a shift in the ECB policy. The next EURUSD downside target (S2) in at 1.0520, representing the April low. Continued downward pressure on the EUR is also supported by speculation of further ECB easing as early as next week's ECB meeting, following a Reuters report saying central bankers are discussing two tiered charges on banks' deposits and further bond buying.
Publication source
---
HotForex information
HotForex reviews
January 20, 2017
Asian stock markets were mixed overnight, after U.S. and European shares closed in the red Thursday. Japan and mainland China bourses managed to move higher (Chinese GDP beat expectations at 6.8%)...
---
January 20, 2017
UK retail sales fell most since 2012. We see he fastest pace of decline in almost five years in December. It is due to sales of... pretty much everything from household goods to clothing and food...
---
January 20, 2017
Investors await Trump's inauguration and speech due later today as he takes office as the 45th President of the United States. The U.S. dollar was seen giving up some of the gains yesterday with some volatility coming off the EURUSD on the back of the ECB meeting...
---