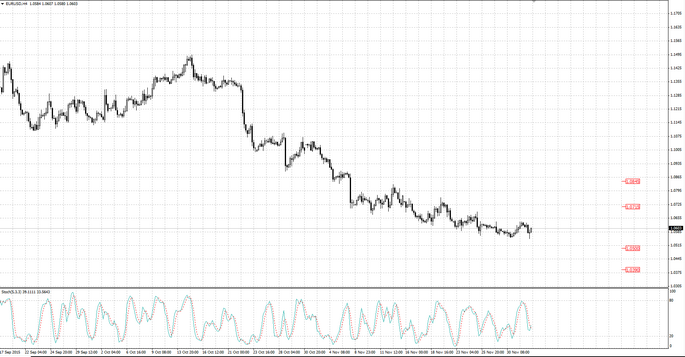 December 3, 2015
---
Traders take a wait and see position awaiting for the ECB decision on December 4th. The ECB soft monetary policy is giving its fruits: the unemployment decreased by 0.7% from the beginning of the year, while the real GDP has grown for the first nine months by 1.79%. According to the second indicator, the euro zone is behind the US which has increased by 2.53%. The German 10-year government bond yields rose relative to their US and the UK counterparts which gives a moderate support for the single European currency. However the pair EUR/USD is trading in a flat.
As expected the PMI manufacturing sector came out worse than the consensus forecast amid the British goods competitiveness decline. The pair EUR/GBP has dropped by 5% from 1 October to 30 November. We do not expect high growth rates in the 2015 fourth quarter. The UK government bond yields decrease in relation to their US and Germany donds reduces the British assets investments attractiveness putting pressure on the Cable. The pair GBP/USD sharply fell.
The ISM manufacturing sector release disappointed traders with the weak data. The PMI has fallen below 50% the first time for the last three years which indicates the purchasing managers growing pessimism amid the oil and gas sector stagnation as well as the dollar revaluation. After the ISM release publication the US and Japanese government bond yields fell which signals the presence of bears. The pair dollar/yen grew after a decrease.
Publication source
---
Fort Financial Services information
Fort Financial Services reviews
December 5, 2016
MACD was in the negative territory. If MACD remains in the negative territory, sellers' positions will strengthen. RSI was in a neutral area...
---
December 5, 2016
As we noted the day before Friday's US jobs report, only a significantly worse-than-expected reading for November would have likely made the Federal Reserve's next interest rate decision more difficult...
---
December 5, 2016
Politics are setting the tone for Monday trading with all eyes on Europe. While Austria presidential polls delivered a defeat to the far-right candidate Norbert Hofer...
---