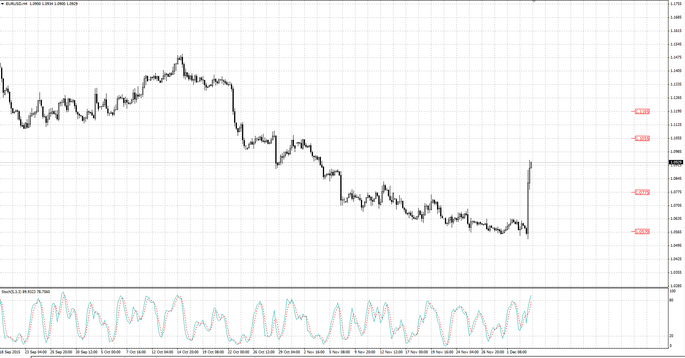 December 4, 2015
---
The stable US labor market recovery contributes to the further credit cost growth expectations giving us a hope that the Friday NFP will show a result higher than the predicted forecast of 200 thousand. The dollar's growth is contributed by the almost first time for ten years Fed rate hike and the regulator's right course to normalize its policy.
The ECB monetary policy meeting results have been announced. The ECB kept the interest rates unchanged at 0.05%. Mario Draghi reported that the inflation policy was effected having added that the QE would be prolonged until the inflation reached 2%. The regulator noticed as well that the core inflation decreased. The November CPI growth was 0.1%, compared to the same period of 2014. This week Bloomberg surveyed the 53 leading investment banks economists and they all expect the decisive action from the ECB in December. The pair euro/dollar sharply increased by the end of the trades.
The PMI manufacturing and the construction sector releases have disappointed traders with the weak data. The British government bond yields declined relative to their US and Germany counterparts which reduced the investment attractiveness in the British assets. The US Energy Department report has sent oil prices to the knockout. By the end of the day the pair pound/dollar significantly strengthened.
The "risk appetite" growth may put pressure on the Japanese yen as a funding currency. The market is full with a large number of buyers. The ECB decision to stimulate the euro zone economy has caused the demand for the Old World risky assets. Investors usually respond positively to the monetary policy easing. However, the pair dollar/yen decreased.
Publication source
---
Fort Financial Services information
Fort Financial Services reviews
October 21, 2016
The price maintained its bearish tone on Thursday. The EUR/USD pair stayed around its recent lows during the day. The euro slightly strengthened towards 1.1000 ahead of the US opening. The 50-EMA limited the euro recovery in the 1 hour chart...
---
October 21, 2016
Asian stock markets are narrowly mixed, with Japanese bourses managing marginal gains as the Yen falls against the Dollar. Stock futures in the U.S. are down...
---
October 21, 2016
The ECB monetary policy meeting yesterday saw the euro give up its intraday gains to close on a bearish note. As Draghi signaled that the central bank would need time to assess the monetary policy situation...
---