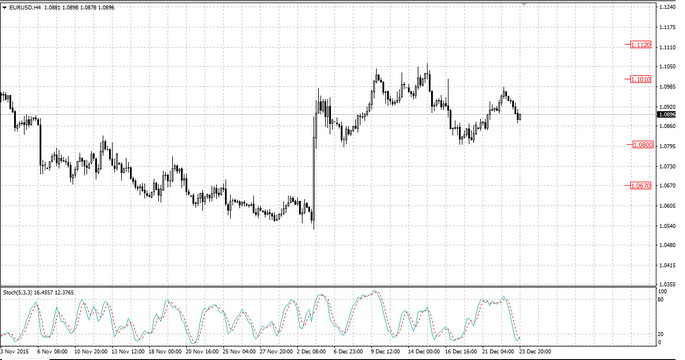 December 24, 2015
---
Despite the lack of the growth drivers the Euro has strengthened its position. The world leading stock markets have showed a corrective growth. The EUR/USD pair showed a growth amid the inflation and economic growth pessimistic expectations. The United States published a block of important macroeconomic statistics. The employment and the average earnings increase has caused the world largest economy consumer activity growth. Nevertheless the published releases disappointed the market. The durable goods base orders in November came out at the level of -0,1% (m/m) against the forecasted 0,1%(m/m), the new home sales in November came out at the level of 490K against the forecasted 505K. By the end of the trades the pair EUR/USD slightly decreased.
The UK National Statistics Office published the third quarter payments balance. The pound revaluation against the euro contributed to the trade deficit increase as British goods reduced their competitiveness abroad. At the end of the third quarter the negative net exports amounted to 31.97 billion pounds which is 20.2% more than in the second quarter and is higher by 0.53% than in the same period of 2014. The seasonal factor also indicates the negative balance increase: capital outflows from the United Kingdom. The third quarter the UK GDP came in lower then it was forecasted: 0,4% (q/q) and 2,1% (y/y) against 0,5% (q/q) and 2,3% (y/y). The pair GBP/USD closed the trades with a slight decrease.
Japanese banks were closed on the occasion of the national holiday that caused the sluggish trade. The financial sector was the growth leader in the European and the North American stock markets as indicates the investors' risk appetite presence and thus put pressure on the Japanese yen as a funding currency. The US GDP final data for the third quarter came out slightly better than the consensus forecast at the level of 2% which contributed to the US and Japanese government bond yields. A slight decrease was noted in the pair USD/JPY.
Publication source
---
Fort Financial Services information
Fort Financial Services reviews
January 24, 2017
The UKs Supreme Court will be giving its verdict in the High Court on whether the Brexit referendum should be put to a parliamentary vote or note. There is a widespread consensus that the Supreme Court will rule in favor of the High Court...
---
January 24, 2017
Oil prices were initially weaker at the start of the new week, but they have now recovered to trade almost flat at the time of this writing. At the weekend, the OPEC and some producers outside of the group met to discuss the progress of their oil production deal...
---
January 24, 2017
Asian stock markets were mixed overnight, with Japanese bourses still under pressure (Nikkei closed down 0.55%). despite a dip in the Yen, as USD stabilised. Uncertainty over Trump's regulatory and trade policies continues to weigh on investor sentiment...
---