28 December, 2015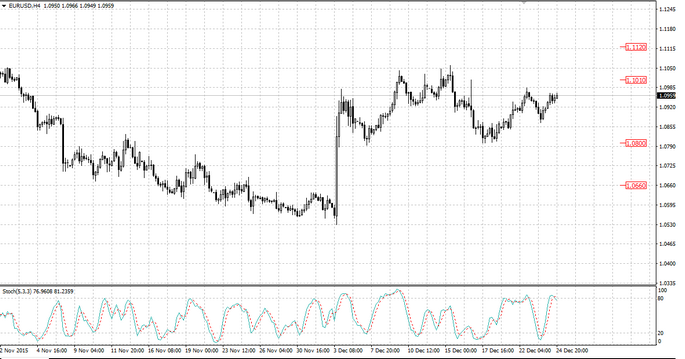 The Euro ignored the negative background amid the increasing demand for the "risk assets" - the world leading stock markets showed growth from 2% to 4%. The US published the third quarter GDP moderately positive macroeconomic data, durable goods orders, personal consumption expenditure and the new buildings sales; however, it did not bring the desired dividends to the dollar. On Thursday the German banks were closed, the US trading session ended few hours earlier. The trades on the pair EUR/USD closed with a growth. There were not any trades on Friday. The whole Western world celebrated Christmas, the most important holiday of the year.
The UK National statistics office revised the UK GDP second estimate for the third quarter from 0.5% to 0.4%. The economic growth rate has been 2.4% for the first nine months, compared to the same period last year. There was the UK clear economic slowdown. The construction and manufacturing sectors were the most vulnerable sectors which decreased by 1.93% and 0.22% respectively in the third quarter of this year. The US third quarter GDP growth also slowed down. Last year the UK was ahead the United States by 0.5% and this year it falls short by 0.1%. The UK government bond yields are growing relative to their US and Germany counterparts which increases the investments' attractiveness in the British assets. The commodity market prices stabilization is also plays into the "bulls" hands now. The pair pound/dollar increased by the end of the trades.
The important macroeconomic releases that could act as a driver for the dollar or the yen have not been published. In general, the United States pleased traders with the positive macroeconomic statistics, but investors have completely ignored the positive news background which indicates the lack of interest in the dollar. The BoJ Governor Kuroda confirmed the Bank commitment to do what it was necessary to overcome the deflation, planning to achieve the 2% inflation target. The pair dollar/yen closed the trades with a decrease.
---
Source link
---
---