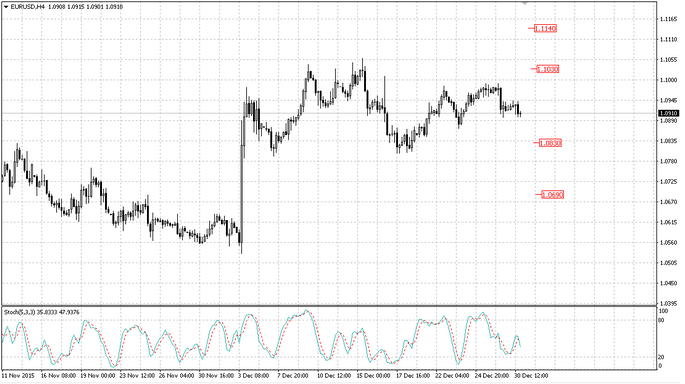 January 4, 2016
---
There was a mixed trend at the Forex market last trading week of the year, some pairs even showed an increased volatility in their trading. The dollar resumed its growth against its competitors, having received support from the positive sentiment in the stock markets as well as strong data from the US. In general, traders' activity continued to fall on the eve of the New Year holidays.
The dollar purchases alongside with the stock markets positive sentiment and favorable statistics from the United States became the driver for the EUR/USD downward dynamics resumption. In particular, prices, contrary to the predictions, kept the growth rate of 5.5% and the consumer confidence in December jumped to 96.5 versus the expected 93.8 and the previous value of the index at 90.4. The recent figures again indicated that the US economy is in great shape and is ready to tighten monetary policy further even more rapid pace.
As for the pair GBPUSD, the pound decreased amid the Cable fundamental weakness due to the recent sharp deterioration of macroeconomic data (inflation slowdown, the GDP decline), which has taken away from the markets hope for a rate hike by the Bank of England next year. The pair pound/dollar slightly corrected upwards by the end of the trades.
The USDJPY showed the most restrained dynamics. The pair's movement is limited by the resistance around 121.30 and the support at 120.40 area. However, even strong statistics from the United States was unable to revive the pair.
Publication source
---
Fort Financial Services information
Fort Financial Services reviews
December 5, 2016
MACD was in the negative territory. If MACD remains in the negative territory, sellers' positions will strengthen. RSI was in a neutral area...
---
December 5, 2016
As we noted the day before Friday's US jobs report, only a significantly worse-than-expected reading for November would have likely made the Federal Reserve's next interest rate decision more difficult...
---
December 5, 2016
Politics are setting the tone for Monday trading with all eyes on Europe. While Austria presidential polls delivered a defeat to the far-right candidate Norbert Hofer...
---