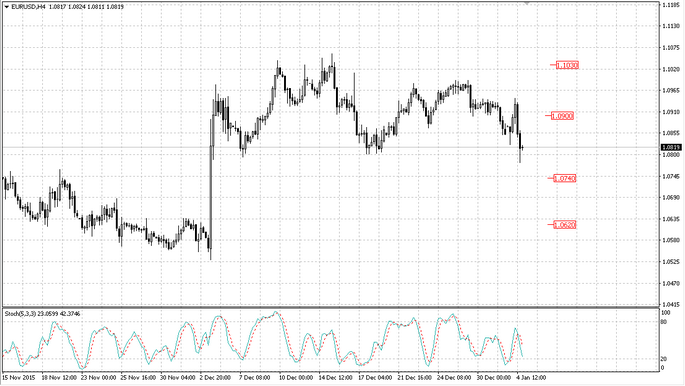 January 5, 2016
---
The last trading day of 2015 was marked by the dollar strengthening against its major rivals. Most of the traders left the market earlier to celebrate the Catholic Christmas and the New Year. The weak US data did not stop the EUR/USD from growth. The weekly unemployment benefits rose by 20K to the mark 287 000. In economic news, the Chicago Fed business activity index came in at 42.9, not much short of the forecast of 49.8.
In the middle of last week, the ECB reported about the November private sector lending growth, the rate was 1.4% in annual terms which is the highest level in the past year. Monday trading was revived due to the planned statistics. The euro area countries published the manufacturing business activity. Germany surfaced the inflation report: 0,3% y/y and -0,1% m/m against forecasted 0,6% y/y è 0,2% m/m. The Germany PMI in manufacturing business came out at the level 53,2 against forecasted 53,0. The pair euro/dollar closed the trades with a decrease.
The UK published money supply report 0,4% m/m against the forecasted 0,5% m/m. The Britain PMI in manufacturing business came out at the level 51,9 against forecasted 52,7. The 10-year UK government bonds yield is growing relative to their counterparts from the US and Germany, which supports the demand for the pound. However, the trades on the pair GBP/USD closed with a decrease.
The US and Japanese government bond yield differential exceeded the level of 200 pp which increases the US assets investment attractiveness. The pair USD/JPY showed a growth by the end of the day.
Publication source
---
Fort Financial Services information
Fort Financial Services reviews
October 24, 2016
The US dollar completed three weeks of back to back gains with the US dollar index seen trading above the 98.55 handle. Without any pullback so far, further upside could come at a significant risk...
---
October 24, 2016
It has been a very good week for the US dollar and a really bad one for the euro and Canadian dollar, among others. The rally has lifted the Dollar Index to its highest level since early February and possibly on course to 100...
---
October 21, 2016
The price maintained its bearish tone on Thursday. The EUR/USD pair stayed around its recent lows during the day. The euro slightly strengthened towards 1.1000 ahead of the US opening. The 50-EMA limited the euro recovery in the 1 hour chart...
---