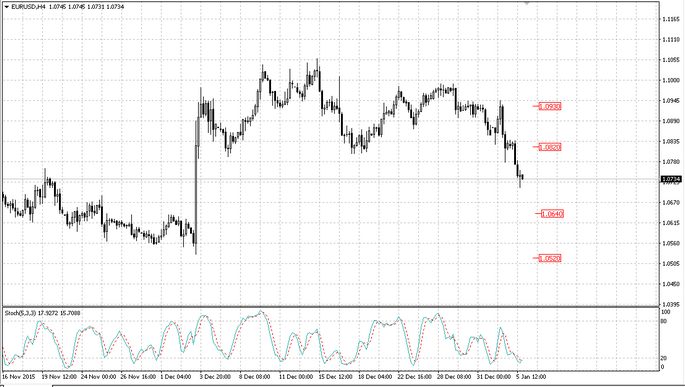 January 6, 2016
---
The China stock market drama had a direct impact on the currencies behavior. The China manufacturing sector business activity surfaced the PMI fall to 48.2 vs. expected of 48.9. Ten consecutive month of falling triggered a new wave of concern about the Chinese economy state and its potential impact on global GDP. This fact, coupled with the Middle East conflict escalation where Saudi Arabia broke off diplomatic relations with Iran, provoked a strong wave of risk aversion.
The December Germany preliminary inflation data showed weak results: 0,2% against the forecasted median 0,3%. The USA statistics is disappointing as well. The manufacturing sector ISM has been below 50% for two consecutive months, indicating a business activity slowdown. The index fell to its lowest level since June 2009 in December. The pair euro/dollar showed a decrease.
The UK November number of mortgage approvals in 2015 amounted to 70.4 thousand which is 0.77% more than in the previous month and 18.81% more than in November 2014. That is the mortgage market which is the main growth driver in the real estate sector and in view of the above-described positive momentum we expected the construction sector PMI within the consensus forecast which may provide some support for the Cable. The data came out at the level of 57,8 against the forecasted 56,0. However the pair pound/dollar decreased by the end of the trades.
The world stock indices collapse strengthened safe-haven assets. The main beneficiary was the yen. Still the followed USD buying changed the alignment of forces in the foreign exchange market. Nevertheless, after a slight correction the pair fell again.
Publication source
---
Fort Financial Services information
Fort Financial Services reviews
October 25, 2016
Asian stock markets are mostly down, as the positive confidence indicators out of Europe and the U.S. yesterday were overshadowed by weak GDP numbers from South Korea, which weighed on most markets. Topix and Nikkei outperformed, with a weaker Yen underpinning exporters...
---
October 25, 2016
Marking the final day of Fed speeches ahead of the one-week blackout period starting today, FOMC voting member, Bullard said that December was most likely for a rate hike...
---
October 25, 2016
Equity markets began the week on a positive note with M&A activities, positive earnings, and better than expected manufacturing data from the Eurozone and U.S. all boosting appetite to risk...
---