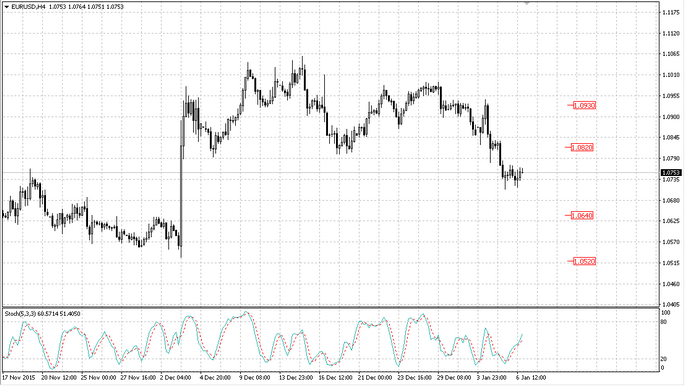 January 7, 2016
---
Investors keep buying the dollar. Trading volumes are higher than in the same days last year. The euro area employment data pleased traders. The Spain unemployed number decreased by 55.8 thousand. vs. expected of 52.6 thousand. The same index is 55.8 thousand in Germany. The forecast was 52.6 thousand. The pair euro/dollar showed a slight growth.
The UK debt market is now set against the bulls: the 10-year UK government bonds yield is reduced relative to their US and Germany counterparts reducing the Cable investments attractiveness. By the end of the trades the pair pound/dollar decreased.
Now investors are more alarmed of the Chinese economy state than six months ago, having started buying the dollar. China conducted a currency intervention at 19.9 billion dollars to support the yuan. The operation was a success - the dollar fell from 6.54 yuan to 6.52. As about the pair dollar/yen – it showed a slight decrease.
The commodity currencies again suffered from the Chinese economy weak data releases. Australian and New Zealand dollars fell most of all.
Publication source
---
Fort Financial Services information
Fort Financial Services reviews
December 2, 2016
Revealed a solid 53.2 November ISM reading and a 0.5% October construction spending rise that followed big upward Q3 revisions, both of which lifted prospects for GDP. We also saw a 17k Thanksgiving week spike in claims that reversed the remarkably tight 333k Veteran's Day figure...
---
December 2, 2016
I do apologise in advance for bombarding you with lots of commodity reports, but ahead of Friday's NFP report, the FX markets tend to create lots of false moves, so it is difficult to make much of todays moves...
---
December 2, 2016
Its payrolls Friday and the markets are expecting to see a solid print for November following Wednesday's ADP payrolls increase. Yesterday, the ISM and Markit's manufacturing PMI showed a strong increase in the reading...
---