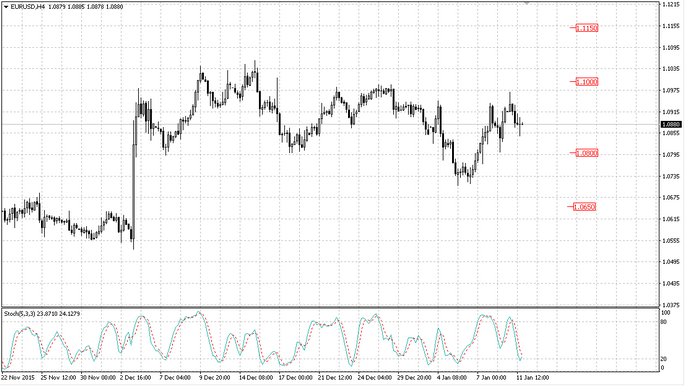 January 12, 2016
---
The US dollar again showed mixed dynamics against its major rivals, having shown weakening against the yen the sixth day in a row. In general, there was an attempt to restore the US currency positions amid the global markets improved sentiment. Last week the Chinese government decided not to suspend trading anymore that helped stock indexes to recover. This fact played into the dollar hands against the euro, still the pair loss appeared to be symbolic. At the same time unexpectedly strong USA employment report has not given to a greenback a substantial support.
The low inflation expectations, combined with the Chinese problems can make FOMC refrain from monetary policy tightening at the meeting on 27th of January, which will deprive the US dollar strong support. Yesterday the trading was defined by risk appetite amid lack of macroeconomic statistics. After a slight correction growth the pair euro/dollar decreased.
The British pound finished last week in the "red zone", still the smooth sterling devaluation is a positive factor for the United Kingdom economy. The UK trade balance release again points to the "strong pound" negative effect: the deficit amounted to 10.64 billion pounds in November which is by 1.08% more than in the same period in 2014. The pair pound/dollar decreased on Monday.
The major stock indices in Asia, Europe and North America lost more than 6% at the end of last week. The trend is in favor of the Japanese yen in the credit market: the yield differential of 10-year US and Japanese government bonds is decreasing that may attract investment to the US assets. The pair dollar/yen showed a decrease
Publication source
---
Fort Financial Services information
Fort Financial Services reviews
December 7, 2016
The pound has come under pressure in London trading today. EURGBP buying has been a driver, with the cross rallying some 0.5% to a peak of 0.8510, since ebbing to around 0.8490. Gains failed to sustain above the 20-day moving average, which is at 0.8503...
---
December 7, 2016
This morning saw a substantial drop in both the manufacturing production and industrial production in the UK for the month of October which comes as a timely reminder that the economy remains vulnerable. The pound ended its recent rise against the US dollar yesterday after hitting a 2-month high...
---
December 7, 2016
The U.S. dollar index managed to recover from a 14-day low on Monday at 99.87 with prices turning bullish yesterday. However, the gains remain limited within Monday's range with further upside likely to see the 100.80 resistance being established...
---