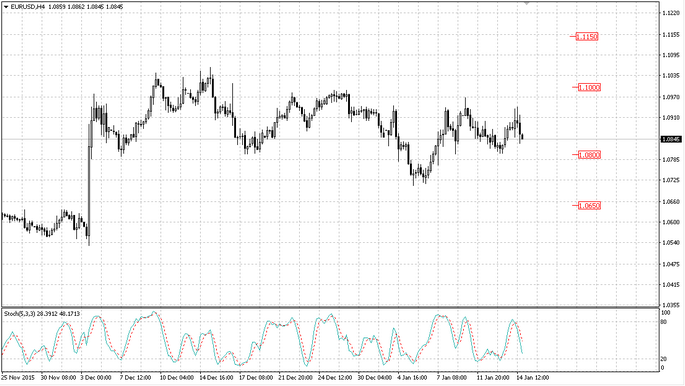 January 15, 2016
---
The dollar showed mixed dynamics with its major opponents. Once again, the stock market set the tone of trading. The American benchmarks were under pressure, the oil went below $30 per barrel, and the safe assets partially recovered.
The German 2015 GDP was published. The GDP showed a growth rate of 1,72% in the first three quarters of last year. The German economy leading indicators, such as the manufacturing and non-production sphere PMI, as well as the IFO index pointed to the fact that the growth rate significantly accelerated in the fourth quarter. The data came out at the level of 1,7% against the forecasted 1,6%. However by the end of the trades the pair EUR/USD decreased.
The Bank of England minutes publication was the main event of the day. The UK interest rates remained at the same level. The weak economic data together with the oil prices decline added headache to Mark Carney and his colleagues. Now no one talks about a possible interest rates increase. The trades on the pair GBP/USD closed a slight growth.
The China stock market downtrend pressured the Asian, Europe and North America stock markets. The United States trades were also under bears' control: the high-tech sector showed the largest decline. The carry trade positionsñlosing contributed to the demand for the yen as a funding currency. Nevertheless by the end of the trades the pair USD/JPY increased.
Publication source
---
Fort Financial Services information
Fort Financial Services reviews
October 25, 2016
Asian stock markets are mostly down, as the positive confidence indicators out of Europe and the U.S. yesterday were overshadowed by weak GDP numbers from South Korea, which weighed on most markets. Topix and Nikkei outperformed, with a weaker Yen underpinning exporters...
---
October 25, 2016
Marking the final day of Fed speeches ahead of the one-week blackout period starting today, FOMC voting member, Bullard said that December was most likely for a rate hike...
---
October 25, 2016
Equity markets began the week on a positive note with M&A activities, positive earnings, and better than expected manufacturing data from the Eurozone and U.S. all boosting appetite to risk...
---