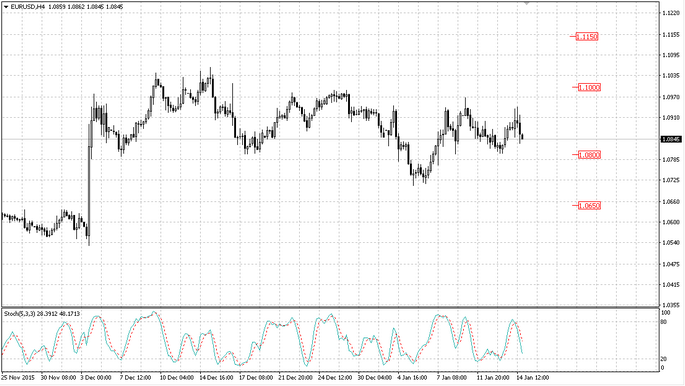 January 15, 2016
---
The dollar showed mixed dynamics with its major opponents. Once again, the stock market set the tone of trading. The American benchmarks were under pressure, the oil went below $30 per barrel, and the safe assets partially recovered.
The German 2015 GDP was published. The GDP showed a growth rate of 1,72% in the first three quarters of last year. The German economy leading indicators, such as the manufacturing and non-production sphere PMI, as well as the IFO index pointed to the fact that the growth rate significantly accelerated in the fourth quarter. The data came out at the level of 1,7% against the forecasted 1,6%. However by the end of the trades the pair EUR/USD decreased.
The Bank of England minutes publication was the main event of the day. The UK interest rates remained at the same level. The weak economic data together with the oil prices decline added headache to Mark Carney and his colleagues. Now no one talks about a possible interest rates increase. The trades on the pair GBP/USD closed a slight growth.
The China stock market downtrend pressured the Asian, Europe and North America stock markets. The United States trades were also under bears' control: the high-tech sector showed the largest decline. The carry trade positionsñlosing contributed to the demand for the yen as a funding currency. Nevertheless by the end of the trades the pair USD/JPY increased.
Publication source
---
Fort Financial Services information
Fort Financial Services reviews
December 2, 2016
Revealed a solid 53.2 November ISM reading and a 0.5% October construction spending rise that followed big upward Q3 revisions, both of which lifted prospects for GDP. We also saw a 17k Thanksgiving week spike in claims that reversed the remarkably tight 333k Veteran's Day figure...
---
December 2, 2016
I do apologise in advance for bombarding you with lots of commodity reports, but ahead of Friday's NFP report, the FX markets tend to create lots of false moves, so it is difficult to make much of todays moves...
---
December 2, 2016
Its payrolls Friday and the markets are expecting to see a solid print for November following Wednesday's ADP payrolls increase. Yesterday, the ISM and Markit's manufacturing PMI showed a strong increase in the reading...
---