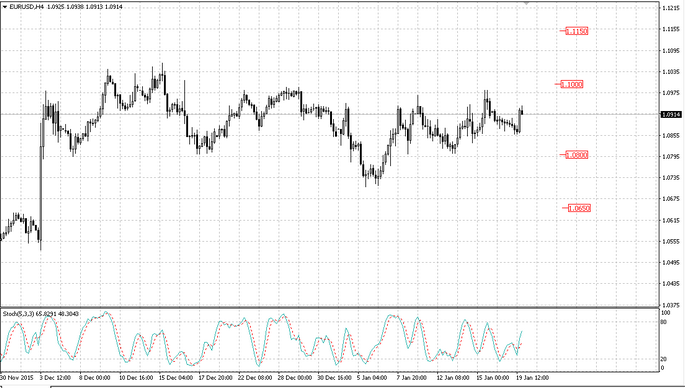 January 21, 2016
---
China published the last year 4th quarter GDP. That release defined the course of trading for the whole day. Leading indicators point to a serious economic slowdown. The Markit production PMI only once was higher than 50% in the past year. The China's fourth quarter GDP is estimated at 6,8% y/y that coincided with the predictions and became a driver for the market. The other China macro-economic reports have been very doubtful with their figures. Thus, the December industrial production rose by 5.9% y/y with the growth expectations of 6,0% y/y, while the last month retail sales increased by only 11,1% y/y. Traders expected the indicator to increase by 11,3 % y/y.
The euro zone published several releases. The surplus current account balance rose to 26.4 billion euro in November against 25.6 billion in October. The ZEW economic expectations index fell to 10.2 in January from 16.1 in December, it's the lowest level since October 2015. Economists had forecasted a decline to 8.0. The China slowing economic growth alongside with the developing economies problems are clouding the German economy prospects. Only by the end of the trades the pair euro/dollar strengthened.
The December UK CPI became the main event for the GBP/USD. The United Kingdom labor market surfaces the mixed data. On the one hand we have an increased employment, which is an inflation indicator. On the other hand, the average earnings growth is reduced which is a negative factor for consumer prices. The oil strong sales will also exert the downward pressure on the CPI. The data came in at the level 0,2% y/y against the forecasted 0,1% y/y and 0,1% m/m that was at the forecasted level.
The reduced investors' "risk appetite" shall contribute to the safe assets demand: primarily the Japanese yen, gold and the euro. As the Japanese yen is a funding currency ¹1 in carry trade operations we were again witness a downtrend development in the pair USD/JPY.
Publication source
---
Fort Financial Services information
Fort Financial Services reviews
October 24, 2016
The US dollar completed three weeks of back to back gains with the US dollar index seen trading above the 98.55 handle. Without any pullback so far, further upside could come at a significant risk...
---
October 24, 2016
It has been a very good week for the US dollar and a really bad one for the euro and Canadian dollar, among others. The rally has lifted the Dollar Index to its highest level since early February and possibly on course to 100...
---
October 21, 2016
The price maintained its bearish tone on Thursday. The EUR/USD pair stayed around its recent lows during the day. The euro slightly strengthened towards 1.1000 ahead of the US opening. The 50-EMA limited the euro recovery in the 1 hour chart...
---