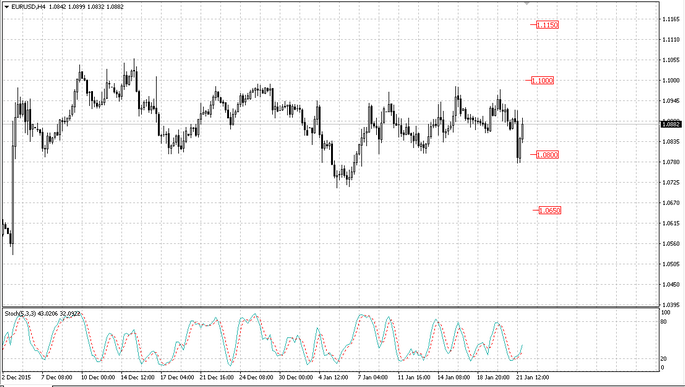 January 22, 2016
---
The "black gold" continues to set the tone of the world stock indices and they, in turn, dictate the currencies dynamics. The trading is quite nervous and volatile. The dollar mostly takes positions. The United States published the weekly initial jobless claims report: 293.000 against the forecasted 278.000.
The single European currency still can not take the tenth figure that indicates the strong sellers presence. Despite significant sell-off in global stock markets since the beginning of the year - the euro was able to symbolically strengthen over this period. The risk appetite decrease is the demand for the euro as a funding currency. There was Mario Draghi's a press conference where he had announced CPI forecasts. The euro has fallen off after the ECB President Mario Draghi said that they need to "reconsider" the Bank monetary policy at its next meeting in March, when there will be fresh economic forecasts. Only by the end of the trades the pair EUR/USD strengthened.
According to the November Unemployment Rate it is too early to write off the United Kingdom economy. Moreover, the pound devaluation against the euro and the dollar will boost exports which have a positive impact on the GDP. This factor reduces the US and UK government bond yield differential in the debt market. The pair pound/dollar increased.
Although the yen has strengthened by 2.9% since the beginning of this year we do not see any signal that the downward trend comes to the end. After a slight pause, investors again rushed to get rid of "risky assets". However the pair USD/JPY strengthened by the end of the trades.
Publication source
---
Fort Financial Services information
Fort Financial Services reviews
December 2, 2016
Revealed a solid 53.2 November ISM reading and a 0.5% October construction spending rise that followed big upward Q3 revisions, both of which lifted prospects for GDP. We also saw a 17k Thanksgiving week spike in claims that reversed the remarkably tight 333k Veteran's Day figure...
---
December 2, 2016
I do apologise in advance for bombarding you with lots of commodity reports, but ahead of Friday's NFP report, the FX markets tend to create lots of false moves, so it is difficult to make much of todays moves...
---
December 2, 2016
Its payrolls Friday and the markets are expecting to see a solid print for November following Wednesday's ADP payrolls increase. Yesterday, the ISM and Markit's manufacturing PMI showed a strong increase in the reading...
---