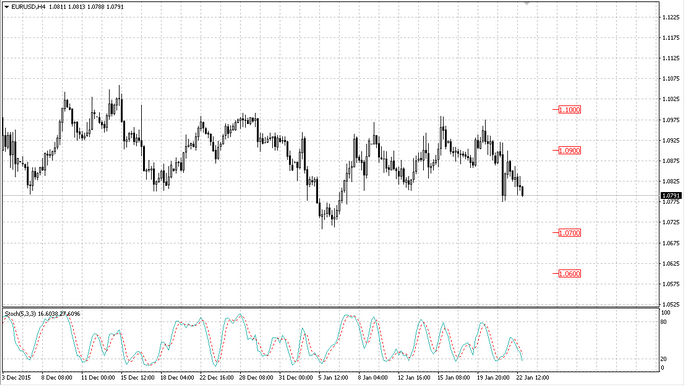 January 25, 2016
---
The Forex currencies showed an uneven trend, this time focusing not only on investors' sentiment and the commodity segment situation. The ECB meeting and the Mario Draghi's press conference has brought some volatility to the market. The regulator's decision was expected and caused no market reaction (the rate was left unchanged), as opposed to words Draghi, who seems determined to prepare traders for the Central Bank policy revision in March, when the economic forecasts are updated. The ECB President has expressed his concern about the inflation low levels and even noted the threat of consumer prices falling below zero this year. Thus, the bank's promise is clear, and now the market is to price the March monetary policy easing program. By the end of the trades the pair euro/dollar decreased.
The traders' attention was focused on the UK December retail sales. The retail sector growth sales rate made up 4.34% in the first eleven months of 2015. The increase became possible when the labor market showed an upward trend. The UK unemployment rate is now 5.1%, it is the lowest level in 10 years. Although the last year fourth quarter average earnings growth reduced, still it is still higher than a year earlier. The pair pound/dollar slightly decreased after a strong growth.
The United States published the secondary market housing sales report. The Mortgage Bankers Association release pointed to the data output worse than the consensus forecast. The refinancing index fell by 5.06% amid the mortgage rates rising. The December FOMC Meeting raised the discount rate by 0.25% which is reflected in the mortgage market. There was real wages decline in November by 0.1% at the same time. The pair dollar/yen showed a growth.
Publication source
---
Fort Financial Services information
Fort Financial Services reviews
December 6, 2016
Risk aversion intensified during early trading on Monday following reports of Italian Prime Minister Matteo Renzi experiencing a crushing defeat in the referendum on constitutional reforms which sparked concerns of renewed political instability in Europe...
---
December 5, 2016
MACD was in the negative territory. If MACD remains in the negative territory, sellers' positions will strengthen. RSI was in a neutral area...
---
December 5, 2016
As we noted the day before Friday's US jobs report, only a significantly worse-than-expected reading for November would have likely made the Federal Reserve's next interest rate decision more difficult...
---