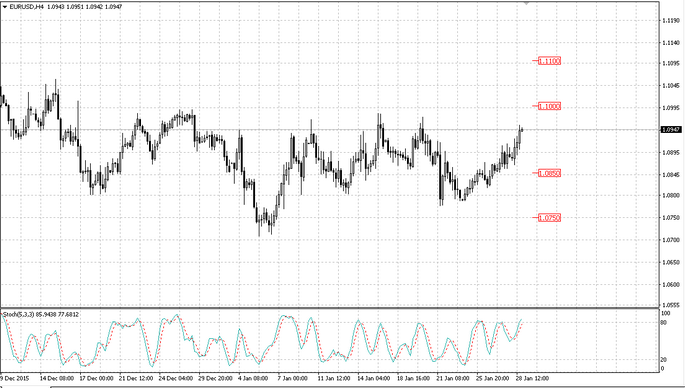 January 29, 2016
---
The US Federal Reserve is concerned about the financial market turbulence. The Fed statements did not have any effect neither on the EUR/USD pair nor the other assets.
The EUR/USD trades were restrained yesterday - investors continue to evaluate the Fed two-day meeting results, the first one in the new year.
Germany has surfaced the inflation preliminary data whose growth rate may accelerate from 0.3% to 0.5%. The ECB is cautious about its quantitative easing program, as the Germany inflation dynamics is relatively well. The data came in at the forecasted median. By the end of the trades the pair euro/dollar showed a growth.
The Initial Jobless Claims number showed - 278000. The forecast was 282000. The labor market is relatively stable, even though all visible signs of long-term unemployment growth are seen which has a negative impact on the overall unemployment level. In addition, the expected durable goods declined by 0.6%. However the decline was 5.1%.
Yesterday the UK 4th quarter GDP was published. The GDP growth rate was 2.27% for the first nine months of 2015, as it was forecasted. It is worth noting that the first nine months of 2014 the growth rate was 2.87% which indicates the UK economic slowdown phase. The data came in at the forecasted median. The pair pound/dollar increased by the end of the trades.
The USD/JPY pair is still trading in a narrow channel. However, concerns that the Bank of Japan will announce the next mitigation measures at the end of the two-day meeting are putting pressure on the yen. Japan published the retail sales which decreased by 1.1% in comparison to the same period in 2014.
Publication source
---
Fort Financial Services information
Fort Financial Services reviews
January 20, 2017
Asian stock markets were mixed overnight, after U.S. and European shares closed in the red Thursday. Japan and mainland China bourses managed to move higher (Chinese GDP beat expectations at 6.8%)...
---
January 20, 2017
UK retail sales fell most since 2012. We see he fastest pace of decline in almost five years in December. It is due to sales of... pretty much everything from household goods to clothing and food...
---
January 20, 2017
Investors await Trump's inauguration and speech due later today as he takes office as the 45th President of the United States. The U.S. dollar was seen giving up some of the gains yesterday with some volatility coming off the EURUSD on the back of the ECB meeting...
---