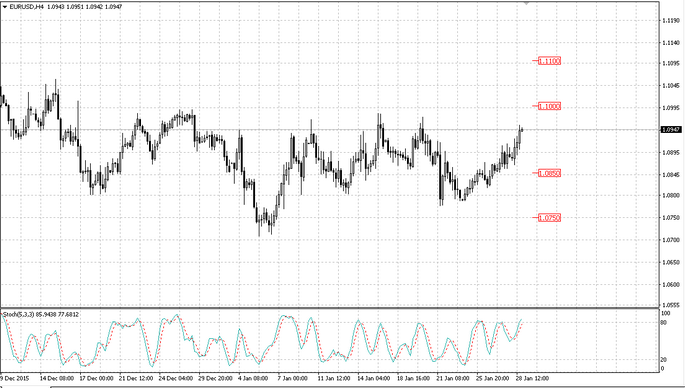 January 29, 2016
---
The US Federal Reserve is concerned about the financial market turbulence. The Fed statements did not have any effect neither on the EUR/USD pair nor the other assets.
The EUR/USD trades were restrained yesterday - investors continue to evaluate the Fed two-day meeting results, the first one in the new year.
Germany has surfaced the inflation preliminary data whose growth rate may accelerate from 0.3% to 0.5%. The ECB is cautious about its quantitative easing program, as the Germany inflation dynamics is relatively well. The data came in at the forecasted median. By the end of the trades the pair euro/dollar showed a growth.
The Initial Jobless Claims number showed - 278000. The forecast was 282000. The labor market is relatively stable, even though all visible signs of long-term unemployment growth are seen which has a negative impact on the overall unemployment level. In addition, the expected durable goods declined by 0.6%. However the decline was 5.1%.
Yesterday the UK 4th quarter GDP was published. The GDP growth rate was 2.27% for the first nine months of 2015, as it was forecasted. It is worth noting that the first nine months of 2014 the growth rate was 2.87% which indicates the UK economic slowdown phase. The data came in at the forecasted median. The pair pound/dollar increased by the end of the trades.
The USD/JPY pair is still trading in a narrow channel. However, concerns that the Bank of Japan will announce the next mitigation measures at the end of the two-day meeting are putting pressure on the yen. Japan published the retail sales which decreased by 1.1% in comparison to the same period in 2014.
Publication source
---
Fort Financial Services information
Fort Financial Services reviews
February 17, 2017
The US economic data continued to post strong gains with building permits and Philly Fed manufacturing index beating expectations strongly. However, the markets were not quite impressed despite the data points supporting the hawkish Fed for more rate hikes...
---
February 17, 2017
There seems to be little drive for any real direction now. Brent remained rather unchanged on Thursday staying in a tight range above 55.50 dollars per barrel. The Asian upward impetus lost it legs when European markets opened...
---
February 16, 2017
After touching the level 1.0550 the euro bounced off and was able to reverse a minor part of its losses. The overnight's recovery attempt stalled just under 1.0600 barrier. The pair came under renewed selling pressure and slipped into negative territory in the late Asian session...
---