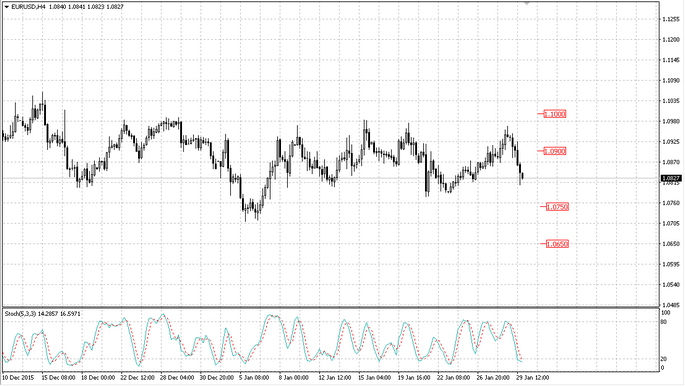 February 1, 2016
---
The United States data disappointed traders and became the reason of its weakening. The Initial Jobless Claims number fell to 278 thousand. The Continuing Jobless Claims increased from 2.219 million to 2.268 million which again increases the unemployment risk.
The preliminary Germany inflation data coincided with the forecasts, having confirmed the assumption about the price growth acceleration from 0.3% to 0.5%. The Germany retail sales growth rate is slowing from 2.3% to 1.5%. The trades on the pair EUR/USD closed with a decrease.
According to the UK National Bureau of Statistics the previous year 4th quarter GDP increased compared with the previous quarter. The economy managed to show a growth of 0.5% in Q4, while the same indicator expanded by only 0.4% in Q3. The UK economy has grown by 2.2% for the entire 2015. By the end of the trades the pair GBP/USD showed a decrease.
The Bank of Japan is determined to launch the new monetary stimulus. Unexpectedly, the regulator introduced the negative deposits interest rates. This decision was taken due to the low inflation level and the global financial markets instability. The Central Bank lowered the commercial banks deposits rate to 0.1% from 0.1%. According to the Bank statement, the regulator is ready to go for an even greater rates decrease, if it considers this measure necessary. The asset purchase program amount was maintained at 80 trillion yen. The pair USD/JPY sharply increased.
Publication source
---
Fort Financial Services information
Fort Financial Services reviews
October 21, 2016
The price maintained its bearish tone on Thursday. The EUR/USD pair stayed around its recent lows during the day. The euro slightly strengthened towards 1.1000 ahead of the US opening. The 50-EMA limited the euro recovery in the 1 hour chart...
---
October 21, 2016
Asian stock markets are narrowly mixed, with Japanese bourses managing marginal gains as the Yen falls against the Dollar. Stock futures in the U.S. are down...
---
October 21, 2016
The ECB monetary policy meeting yesterday saw the euro give up its intraday gains to close on a bearish note. As Draghi signaled that the central bank would need time to assess the monetary policy situation...
---