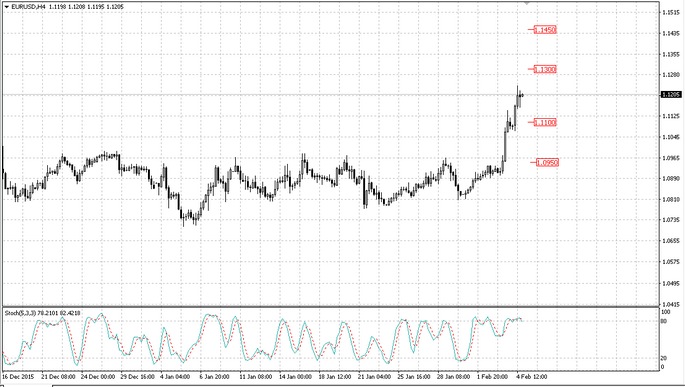 February 5, 2016
---
This week trading showed an increased turbulence, the dollar has collapsed on all fronts. This week has been the worst one for the dollar in the last 7 years. The USA macroeconomic statistics keeps coming out negative, the commodity market is showing growth which traditionally has a negative impact on the dollar value.
The US published the Initial Jobless Claims number (285000 against the forecasted 280000), the Unit Labor Costs (4,5% against the forecasted 3,9%) and the Factory Orders (-2,9% against the forecasted -2,8%). Today all traders' attention will be focused on the NFP.
The EUR/USD set a fresh 3-month high. The ECB published its meeting minutes. According to Mario Draghi if the Bank decided to prolong the stimulus measures the side measures wouldn't be an obstacle. The trades on the pair EUR/USD closed with a growth.
The pound reached the 45th figure in the background of moderately positive Markit Services PMI. The January index figure is lower than the annual average which does not allow us to count on the growth acceleration in the leading sector of the UK economy. On Thursday, all of the players' attention was focused on the Bank of England meeting. Traders did not expect any surprise paying attention to the regulator assessment of the economic situation in the country and the monetary policy perspective. The BoE kept the interest rates unchanged at 0.50%. By the end of the trades the pair pound/dollar slightly fell.
Lack of demand for "risk assets" plays into the USD/JPY bears hands. Investors are concerned that the US GDP in 2016 could grow less than 2.4% - such forecast was voiced at the Fed December meeting. These concerns are caused by the weak manufacturing and the service sectors ISM. The pair dollar/yen showed a decrease.
Publication source
---
Fort Financial Services information
Fort Financial Services reviews
October 25, 2016
Asian stock markets are mostly down, as the positive confidence indicators out of Europe and the U.S. yesterday were overshadowed by weak GDP numbers from South Korea, which weighed on most markets. Topix and Nikkei outperformed, with a weaker Yen underpinning exporters...
---
October 25, 2016
Marking the final day of Fed speeches ahead of the one-week blackout period starting today, FOMC voting member, Bullard said that December was most likely for a rate hike...
---
October 25, 2016
Equity markets began the week on a positive note with M&A activities, positive earnings, and better than expected manufacturing data from the Eurozone and U.S. all boosting appetite to risk...
---