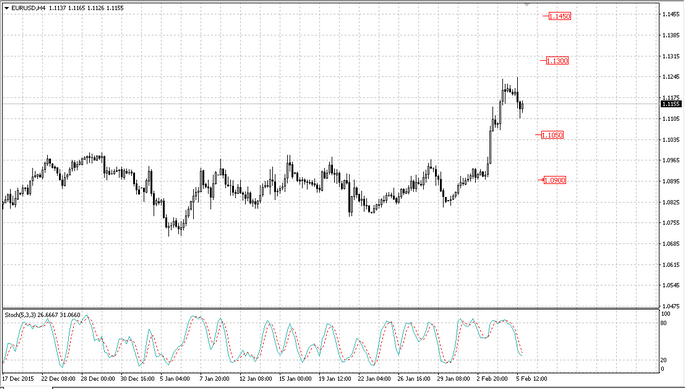 February 8, 2016
---
The USA labor market report for January was the main last Friday event. Traders expected the growth slow down to 190 000 from 292 000. However the data came in at the level of 151 000.
Traders have received the European Commission report. The GDP and the inflation short-term forecasts in the Eurozone dropped to 1.7% and 0.5% respectively. The previous inflation assessment was at the level of 1%. That is not very good news for the euro. However, the market is already tuned in to the March ECB policy easing, so the latest Eurozone figures do not bother the EURUSD more than US statistics which has recently been showing not inspiring data and puts threat on the Fed's ambitious plans. By the end of the trades the pair EUR/USD showed a decrease.
The Bank of England lowered its GDP forecasts for 2016 and 2017. The short-term inflation expectations have been reduced amid the low energy prices and the average earnings moderate growth. The regulator has left the monetary policy rate unchanged. All MPC members voted to keep the policy unchanged. According to Carney it is not the time to raise the rates now; still he made it clear that the borrowing costs raise would be the next step in the monetary policy. The oil market upward trend positively impacted the British currency quotations. Nevertheless the trades on the pair GBP/USD closed with a decrease.
The US and Japanese differential government bond yields are reduced which reduces the investing attractiveness in US assets. The pair USD/JPY was traded in a side corridor.
Publication source
---
Fort Financial Services information
Fort Financial Services reviews
February 17, 2017
The US economic data continued to post strong gains with building permits and Philly Fed manufacturing index beating expectations strongly. However, the markets were not quite impressed despite the data points supporting the hawkish Fed for more rate hikes...
---
February 17, 2017
There seems to be little drive for any real direction now. Brent remained rather unchanged on Thursday staying in a tight range above 55.50 dollars per barrel. The Asian upward impetus lost it legs when European markets opened...
---
February 16, 2017
After touching the level 1.0550 the euro bounced off and was able to reverse a minor part of its losses. The overnight's recovery attempt stalled just under 1.0600 barrier. The pair came under renewed selling pressure and slipped into negative territory in the late Asian session...
---