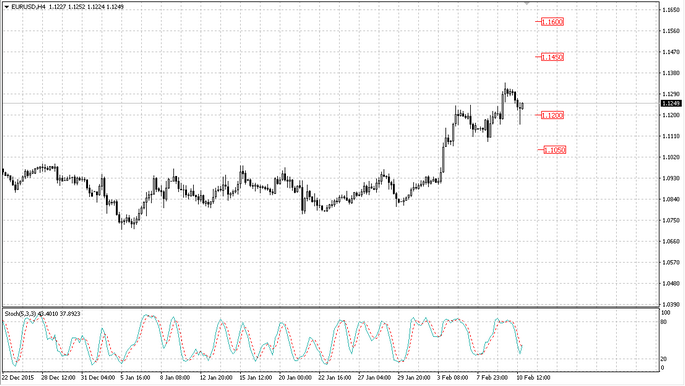 February 11, 2016
---
The traders concerns about the world economy growth slow down in general and the energy sector's fate in particular caused a new wave of stock indices selling. The threat of large slate companies bankruptcy alongside with the Deutsche Bank problems whose shares have fallen to the record lows, discouraged investors from trading with high-risk assets.
The Germany industrial production and trade balance weak data for December once again supported our assumptions that we should not count on the euro significant increase in the medium term. The industrial production volume decreased by 2.2% while it had shown growth of 0.8% in 2015. In this regard, we see a steady negative trend and it is not highly profitable to have a strong euro. The pair EUR/USD closed the trades with a decrease.
The UK published the industrial production release for December. The index came in at -1.1% m/m. The pair GBP/USD quickly left the lows, despite the weaker-than-expected manufacturing industry data. The pair GBP/USD slightly increased.
Janet Yellen speech to Congress is this week key event. Her attitude about the economy state and the monetary policy future shall determine the further prospects of the dollar which has recently weakened. The pair USD/JPY fell by the end of the trades.
According to Janet Yellen there are risks in the US economy which may slow down their plans to increase the interest rates in short-term. The economic China upheavals leave a negative impact on the US economy and the traders' inflation expectations continue declining. The Fed chairman did not talk about the possibility of a later interest rates increase, still the mentioned risks made her tone soft highlighting concerns about the Fed rate hikes this year.
Publication source
---
Fort Financial Services information
Fort Financial Services reviews
January 16, 2017
U.S. markets are closed Monday for Martin Luther King Day. This will be a busy week for traders, with the inauguration of president-elect Trump on Friday headlining...
---
January 16, 2017
U.S. markets are closed today on account of Martin Luther King Day. Economic data is quiet ahead of another busy week. The Bank of England Governor, Mark Carney will be speaking later this afternoon and his comments come a day before the British PM Theresa May will be holding her press conference on Brexit...
---
January 13, 2017
Aftershocks from President-elect Trump's campaign-like press conference, which had weighed on global stock markets and yields started to recede late in the U.S. session and U.S. equities managed to recover part of their losses...
---