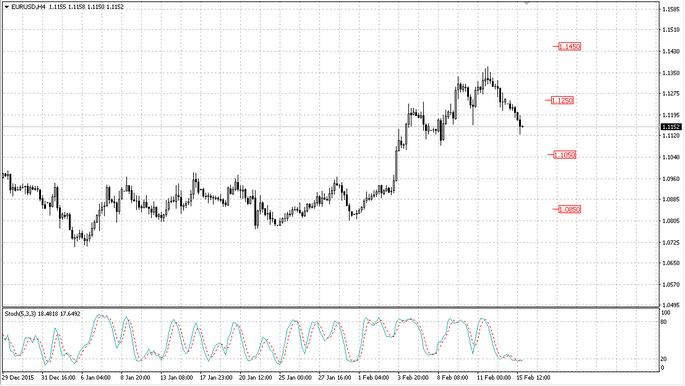 February 16, 2016
---
The stock markets sentiment had significantly improved which forced the risky assets to retreat after a recent rally. The oil quotations recovery coupled with the Deutsche Bank news. The bank is planning to buy back bonds for the amount of 5 billions dollars. All these factors supported the demand for the dollar.
No important news were published yesterday. We believe that the euro won't show significant growth this week. The industrial production volume in the euro area decreased by 0.31% at the end of 2015, compared with a growth of 0.47% a year earlier. The strong euro is not in the European industrialists' interests and the ECB certainly understands that. The pair euro/dollar fell on the yesterday's trades.
The 10-year government bonds yield is increasing in relation to their counterparts (USA and Germany) which increases the investments attractiveness in British assets. In addition, the Brent failing had its positive impact on the British currency as expected. Only by the end of the trades the pair pound/dollar slightly decreased.
Japan had published the Q4 GDP, the report did not show any surprises. The decreased household spending and the negative trade balance indicate an economic growth reduction. The 4th quarter GDP reached the level of 1.4% (y/y) vs. 1.2% (y/y) and 0.4% (q/q) vs. 0.3% (q/q). The pair dollar/yen shows a growth.
Publication source
---
Fort Financial Services information
Fort Financial Services reviews
October 25, 2016
Asian stock markets are mostly down, as the positive confidence indicators out of Europe and the U.S. yesterday were overshadowed by weak GDP numbers from South Korea, which weighed on most markets. Topix and Nikkei outperformed, with a weaker Yen underpinning exporters...
---
October 25, 2016
Marking the final day of Fed speeches ahead of the one-week blackout period starting today, FOMC voting member, Bullard said that December was most likely for a rate hike...
---
October 25, 2016
Equity markets began the week on a positive note with M&A activities, positive earnings, and better than expected manufacturing data from the Eurozone and U.S. all boosting appetite to risk...
---