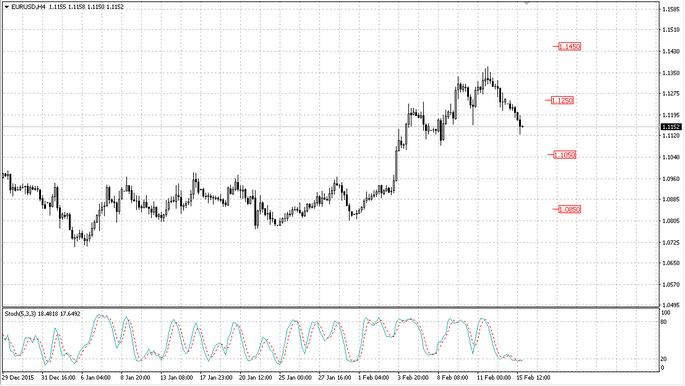 February 16, 2016
---
The stock markets sentiment had significantly improved which forced the risky assets to retreat after a recent rally. The oil quotations recovery coupled with the Deutsche Bank news. The bank is planning to buy back bonds for the amount of 5 billions dollars. All these factors supported the demand for the dollar.
No important news were published yesterday. We believe that the euro won't show significant growth this week. The industrial production volume in the euro area decreased by 0.31% at the end of 2015, compared with a growth of 0.47% a year earlier. The strong euro is not in the European industrialists' interests and the ECB certainly understands that. The pair euro/dollar fell on the yesterday's trades.
The 10-year government bonds yield is increasing in relation to their counterparts (USA and Germany) which increases the investments attractiveness in British assets. In addition, the Brent failing had its positive impact on the British currency as expected. Only by the end of the trades the pair pound/dollar slightly decreased.
Japan had published the Q4 GDP, the report did not show any surprises. The decreased household spending and the negative trade balance indicate an economic growth reduction. The 4th quarter GDP reached the level of 1.4% (y/y) vs. 1.2% (y/y) and 0.4% (q/q) vs. 0.3% (q/q). The pair dollar/yen shows a growth.
Publication source
---
Fort Financial Services information
Fort Financial Services reviews
January 20, 2017
Asian stock markets were mixed overnight, after U.S. and European shares closed in the red Thursday. Japan and mainland China bourses managed to move higher (Chinese GDP beat expectations at 6.8%)...
---
January 20, 2017
UK retail sales fell most since 2012. We see he fastest pace of decline in almost five years in December. It is due to sales of... pretty much everything from household goods to clothing and food...
---
January 20, 2017
Investors await Trump's inauguration and speech due later today as he takes office as the 45th President of the United States. The U.S. dollar was seen giving up some of the gains yesterday with some volatility coming off the EURUSD on the back of the ECB meeting...
---