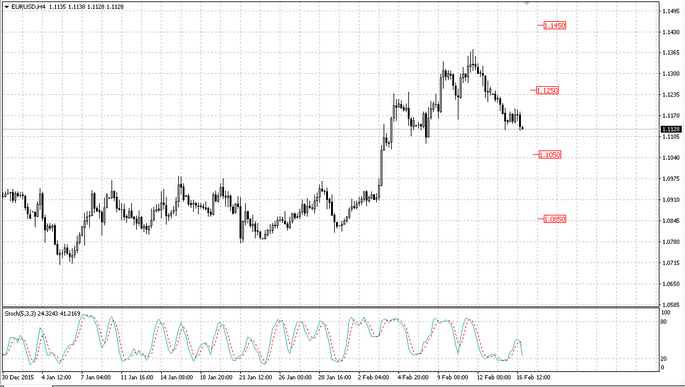 February 17, 2016
---
The dollar started the new trading week on a positive note. The US currency purchase supported the positive sentiment for the world stock exchange. Even China's return to the market after long holidays did not spoil that sentiment. The imports and exports volume from China decreased by 18.8% and 11.2%, respectively in January.
The banking sector shares outperformed the market in Europe. Investors' "risk appetite" was growing which is a negative factor for the euro as a funding currency. Germany has published the ZEW Survey - Economic Sentiment for February. The index showed 1.0 (the previous value was 10.2; the forecast was 3.2). The pair euro/dollar fell.
The UK published the inflation report for January. A strong labor market pointed out that CPI growth (in annual terms) could be a little better than the consensus forecast (0.4%). The unemployment rate for November decreased by 5.1%, while wages increased by 1.02%. However the CPI came in at the forecasted median 0,3%. By the end of the trades the pair pound/dollar sharply fell.
The Japanese negative macroeconomic statistics keeps showing correction. GDP decreased by 0.4% in the fourth quarter. The volume of industrial production has been reducing for the second year in a row and the negative trend accelerated from 1.91% to 2.49% in 2015. The sharp yen's strengthening, that we saw in the beginning of the year, carries additional risks to the Japanese economy. The pair dollar/yen is consolidating after a decrease.
Publication source
---
Fort Financial Services information
Fort Financial Services reviews
January 20, 2017
Asian stock markets were mixed overnight, after U.S. and European shares closed in the red Thursday. Japan and mainland China bourses managed to move higher (Chinese GDP beat expectations at 6.8%)...
---
January 20, 2017
UK retail sales fell most since 2012. We see he fastest pace of decline in almost five years in December. It is due to sales of... pretty much everything from household goods to clothing and food...
---
January 20, 2017
Investors await Trump's inauguration and speech due later today as he takes office as the 45th President of the United States. The U.S. dollar was seen giving up some of the gains yesterday with some volatility coming off the EURUSD on the back of the ECB meeting...
---