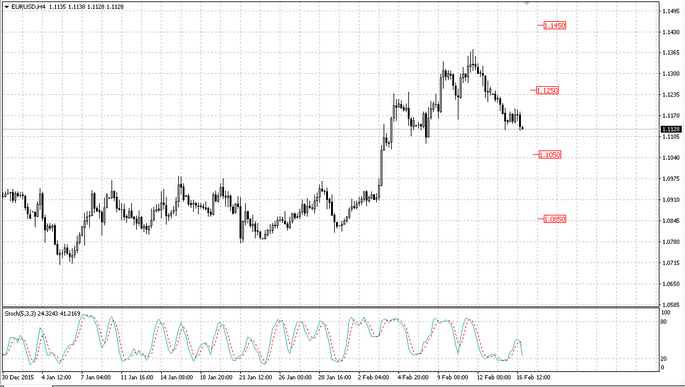 February 17, 2016
---
The dollar started the new trading week on a positive note. The US currency purchase supported the positive sentiment for the world stock exchange. Even China's return to the market after long holidays did not spoil that sentiment. The imports and exports volume from China decreased by 18.8% and 11.2%, respectively in January.
The banking sector shares outperformed the market in Europe. Investors' "risk appetite" was growing which is a negative factor for the euro as a funding currency. Germany has published the ZEW Survey - Economic Sentiment for February. The index showed 1.0 (the previous value was 10.2; the forecast was 3.2). The pair euro/dollar fell.
The UK published the inflation report for January. A strong labor market pointed out that CPI growth (in annual terms) could be a little better than the consensus forecast (0.4%). The unemployment rate for November decreased by 5.1%, while wages increased by 1.02%. However the CPI came in at the forecasted median 0,3%. By the end of the trades the pair pound/dollar sharply fell.
The Japanese negative macroeconomic statistics keeps showing correction. GDP decreased by 0.4% in the fourth quarter. The volume of industrial production has been reducing for the second year in a row and the negative trend accelerated from 1.91% to 2.49% in 2015. The sharp yen's strengthening, that we saw in the beginning of the year, carries additional risks to the Japanese economy. The pair dollar/yen is consolidating after a decrease.
Publication source
---
Fort Financial Services information
Fort Financial Services reviews
October 25, 2016
Asian stock markets are mostly down, as the positive confidence indicators out of Europe and the U.S. yesterday were overshadowed by weak GDP numbers from South Korea, which weighed on most markets. Topix and Nikkei outperformed, with a weaker Yen underpinning exporters...
---
October 25, 2016
Marking the final day of Fed speeches ahead of the one-week blackout period starting today, FOMC voting member, Bullard said that December was most likely for a rate hike...
---
October 25, 2016
Equity markets began the week on a positive note with M&A activities, positive earnings, and better than expected manufacturing data from the Eurozone and U.S. all boosting appetite to risk...
---