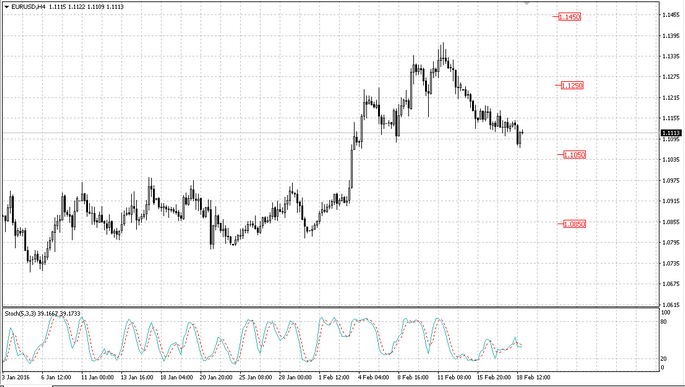 February 19, 2016
---
The major pairs remained volatile without excessive nervousness. The FOMC's minutes did not spring any surprise. The minutes' tone was restrained with a pessimistic tone. The regulator pointed at the growing risks concerning the economy, having stressed that the current information was insufficient for a full risk assessment. The US published Initial Jobless Claims for February on the level of 262K (the previous value was 269K; the forecast was 275K).
We noticed some capital flow into "risky assets" this week, which was a negative factor for the euro as a funding currency. In the credit markets, the 10-year German government bonds yield decreased in relation to their counterparts (the USA and the UK) which reduced the investments attractiveness in European assets. The pair euro/dollar decreased.
Britain failed to deliver strong data to the investors about the labor market. Unemployment and average earnings indicators for December remained at the previous levels. The unemployment level of differential rates in Great Britain and the United States remained the same. The pair pound/dollar fell after a growth.
The appetite for risk kept growing in financial markets which put pressure on the Japanese yen as a funding currency. By the end of the trades the pair dollar/yen slightly fell.
Publication source
---
Fort Financial Services information
Fort Financial Services reviews
December 6, 2016
Morgan Stanley strategists believe that the ECB will keep rates on hold at this week's meeting, but can expand its QE purchase program. But they consider different scenarios with various responses from the euro...
---
December 6, 2016
The single currency opened Monday on a bearish note but managed to pare losses as investors brushed aside the Italian referendum results. EURUSD closed at a 2-week high right near the resistance level of 1.0765 as noted in yesterday's commentary...
---
December 6, 2016
Risk aversion intensified during early trading on Monday following reports of Italian Prime Minister Matteo Renzi experiencing a crushing defeat in the referendum on constitutional reforms which sparked concerns of renewed political instability in Europe...
---