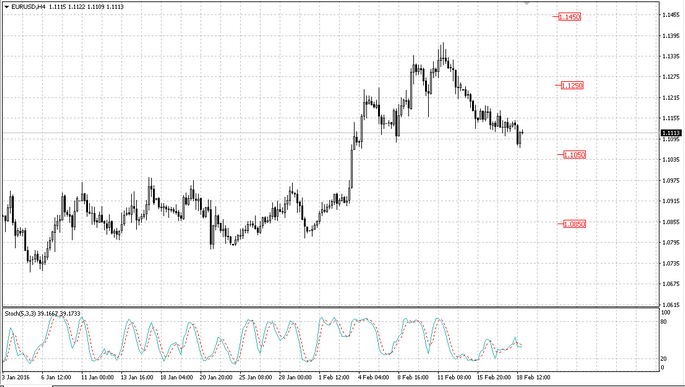 February 19, 2016
---
The major pairs remained volatile without excessive nervousness. The FOMC's minutes did not spring any surprise. The minutes' tone was restrained with a pessimistic tone. The regulator pointed at the growing risks concerning the economy, having stressed that the current information was insufficient for a full risk assessment. The US published Initial Jobless Claims for February on the level of 262K (the previous value was 269K; the forecast was 275K).
We noticed some capital flow into "risky assets" this week, which was a negative factor for the euro as a funding currency. In the credit markets, the 10-year German government bonds yield decreased in relation to their counterparts (the USA and the UK) which reduced the investments attractiveness in European assets. The pair euro/dollar decreased.
Britain failed to deliver strong data to the investors about the labor market. Unemployment and average earnings indicators for December remained at the previous levels. The unemployment level of differential rates in Great Britain and the United States remained the same. The pair pound/dollar fell after a growth.
The appetite for risk kept growing in financial markets which put pressure on the Japanese yen as a funding currency. By the end of the trades the pair dollar/yen slightly fell.
Publication source
---
Fort Financial Services information
Fort Financial Services reviews
January 23, 2017
Donald Trump is finally in power, a new era has arrived, and his policy plans in the first couple of weeks will override fundamentals. Markets spent more than two months pricing in growth policies promises, lowers corporate taxes, and deregulations, now it is time to deliver as markets will no more move on words but actions...
---
January 23, 2017
The U.S. dollar continued to extend the declines for what could a third consecutive day. On Friday, Donald Trump took office as the 45th President of the United States...
---
January 20, 2017
Asian stock markets were mixed overnight, after U.S. and European shares closed in the red Thursday. Japan and mainland China bourses managed to move higher (Chinese GDP beat expectations at 6.8%)...
---