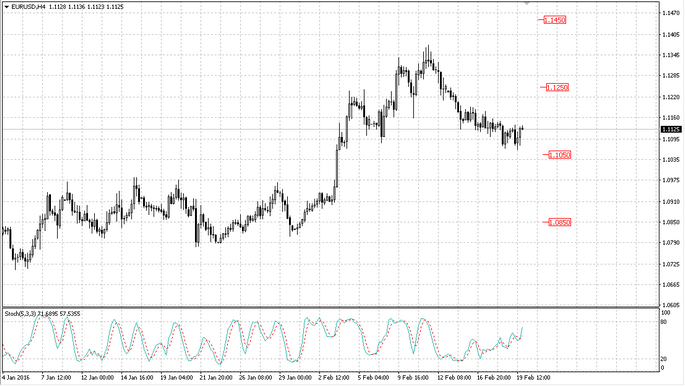 February 22, 2016
---
Despite positive stock markets sentiment and good USA labor market data the dollar failed to grow. Investors were also pleased with the lack of negative reports from China, where the inflation reached the forecasted level. The Fed's meeting minutes released on Wednesday impacted the dollar as well. The regulator's soft tone was interpreted by traders as another retreat from December's plans.
The ECB minutes pointed that the inflation would remain at low levels. Mario Draghi said the ECB was ready to implement additional monetary policy easing at the next meeting on March 10th. We again got the divergent expectations of a policies change of the two central banks. By the end of the trades the pair euro/dollar slightly increased.
The UK published retail sales release for January at the level of 2,3%m/m and 5,2%y/y against the forecasted 0,8%m/m and 3,6%y/y. The positive trend in the labor market allows us to expect retail sales growth compared with the previous month. An increase of wages was recorded in the UK during the period from November to December last year. The pair pound/dollar showed a growth by the end of the trades.
The OECD lowered its growth forecast for Japanese GDP to 0.8% from 1.0% in 2016. The Japanese yen strengthened against the dollar by 5.1% since the beginning of this year. That fact reduced the national products competitiveness in foreign markets. The trade deficit in Japan amounted to 645.9 billion in January, which is 5 times more than in the last quarter of 2015. The pair dollar/yen closed the trades with a decrease.
Publication source
---
Fort Financial Services information
Fort Financial Services reviews
February 23, 2017
The U.S. dollar index was flat yesterday after the Federal Reserve published the meeting minutes from the January 31 -February 1 monetary policy meeting...
---
February 23, 2017
The plan successfully passed through the upper chamber and is now going to the committee stage where it's likely to be amended to warrant better relations with the EU...
---
February 23, 2017
The single currency regained a minor portion of its losses in the Asian session on Wednesday. The pair was able to reach 1.0550. However, the selling pressure around the euro remained unchanged pushing the spot to fresh lows...
---