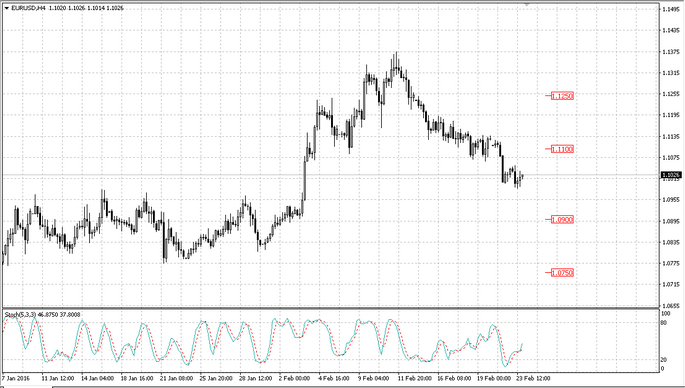 February 24, 2016
---
The dollar started the week with strengthening against its rivals. The US currency and the stock assets grew together amid oil prices rising. The dollar was slowed down a bit by Markit Manufacturing PMI for February that had fallen to its lowest level of 51.0 since October 2012. The previous value was 52.4 and the forecast was 52.3.
The German's GDP in the 4th quarter increased by 0.3% compared with the previous quarter, which corresponds to the growth rate in the 3rd quarter. This figure confirmed the preliminary assessment. Thus, the GDP growth rate amounted to 1.1% in annual terms. By the end of the trades the pair EUR/USD slightly strengthened.
The GBPUSD fell and the reason of its fall was the potential Brexit. The aggressive pound selling was Mayor of London Boris Johnson's statements, where he supported the British exit from the EU. The Prime Minister David Cameron confirmed the holding of a referendum on 23rd of June this year. In light of these developments Citibank raised its estimate of the Brexit probability up to 30-40% from 20-30% previously. The pair GBP/USD sharply fell to the new minimums.
The Bank of Japan governor Haruhiko Kuroda said on Tuesday that he saw no direct connection between the monetary base increase and the inflation expectations. Still we believe that Kuroda overestimated the impact of monetary policy major changes on public opinion. The pair USD/JPY is consolidating.
Publication source
---
Fort Financial Services information
Fort Financial Services reviews
October 26, 2016
Asian stock markets are mostly down, with Japan a notable outperforming (closing up and indices holding on to modest gains as the Yen continued to decline against the Dollar...
---
October 26, 2016
The Australian Bureau of Statistics released the consumer price index data for the third quarter. Official records showed that CPI advanced 1.3% on the year in the third quarter of 2016...
---
October 25, 2016
Asian stock markets are mostly down, as the positive confidence indicators out of Europe and the U.S. yesterday were overshadowed by weak GDP numbers from South Korea, which weighed on most markets. Topix and Nikkei outperformed, with a weaker Yen underpinning exporters...
---