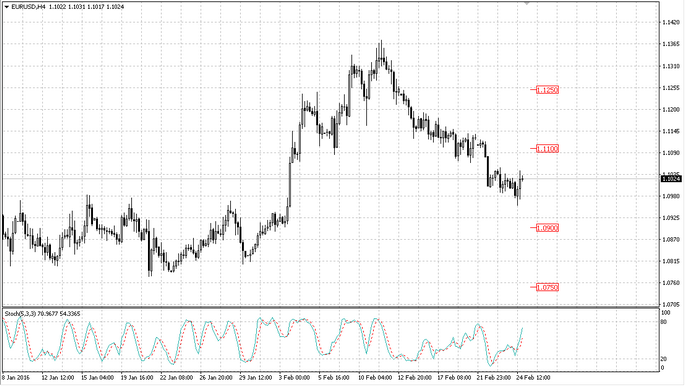 February 25, 2016
---
Tuesday was marked by the dollar strengthening against all European currencies. The dollar grew despite the sentiment drop of global investors. The USA published Markit Services PMI (49,8 against the forecasted 53,5), Markit PMI Composite (50.1 against the previous 53.2) and New Home Sales (494K against the forecasted 520K) reports.
The Eurozone did not publish important news, and therefore traders' attention was entirely directed to the stock indices. The pair euro/dollar slightly strengthened by the end of the trades.
The UK released BBA Mortgage Approvals (47,5K against the forecasted 45,5K) and CBI Distributive Trades Survey for February. (10 against the forecasted 12) In addition, the pound depends on news about Brexit now. The survey results before the referendum may lead to increase volatility of GBP/USD. The pair pound/dollar continued the downward movement.
The Bank of Japan governor statements supported the yen. According to Kuroda the accelerating pump of money into the economy will not increase expectations of future price increase. The current monetary policy has limits and it can revive the economic growth just to some extant. The market became more caution after China's decision to set a lower rate for the yuan, although most traders expected it to remain unchanged during the finance ministers and central bank governors meeting ("Big Twenty") this week. The pair dollar/yen decreased.
Publication source
---
Fort Financial Services information
Fort Financial Services reviews
December 8, 2016
U.S. equities edged higher to post new highs in yesterday's trading marking one of the strongest one day gains since the November elections. The DJIA gained 1.6% while the S&P500 closed with 1.3% gains...
---
December 8, 2016
US markets saw a massive rise today as the Dow was up 300 points and the S&P 500 was up 29 points showcasing that investors believe the advent of Trump will have a positive effect on the US economy.
---
December 7, 2016
The pound has come under pressure in London trading today. EURGBP buying has been a driver, with the cross rallying some 0.5% to a peak of 0.8510, since ebbing to around 0.8490. Gains failed to sustain above the 20-day moving average, which is at 0.8503...
---