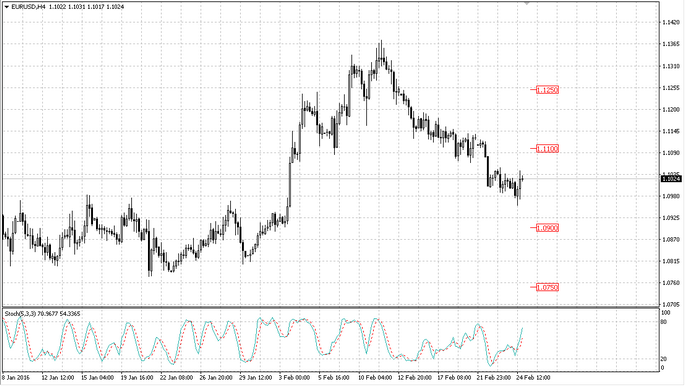 February 25, 2016
---
Tuesday was marked by the dollar strengthening against all European currencies. The dollar grew despite the sentiment drop of global investors. The USA published Markit Services PMI (49,8 against the forecasted 53,5), Markit PMI Composite (50.1 against the previous 53.2) and New Home Sales (494K against the forecasted 520K) reports.
The Eurozone did not publish important news, and therefore traders' attention was entirely directed to the stock indices. The pair euro/dollar slightly strengthened by the end of the trades.
The UK released BBA Mortgage Approvals (47,5K against the forecasted 45,5K) and CBI Distributive Trades Survey for February. (10 against the forecasted 12) In addition, the pound depends on news about Brexit now. The survey results before the referendum may lead to increase volatility of GBP/USD. The pair pound/dollar continued the downward movement.
The Bank of Japan governor statements supported the yen. According to Kuroda the accelerating pump of money into the economy will not increase expectations of future price increase. The current monetary policy has limits and it can revive the economic growth just to some extant. The market became more caution after China's decision to set a lower rate for the yuan, although most traders expected it to remain unchanged during the finance ministers and central bank governors meeting ("Big Twenty") this week. The pair dollar/yen decreased.
Publication source
---
Fort Financial Services information
Fort Financial Services reviews
October 28, 2016
On Friday, the Japanese yen remained close to it weakest level against the greenback for three months during Asia trade, right after a surge in American bond yields as well as the issue of economic data backing the case for growth in American interest rates strengthened the US dollar overnight...
---
October 28, 2016
The mounting expectations over the Federal Reserve raising US interest rates in December have inspired bullish investors to send the Dollar Index to fresh eight-month highs at 99.00...
---
October 28, 2016
The crude oil gains as the Algerian Energy Minister Noureddine Butarfa hit the market with a statement saying that OPEC has a plan to complete the formal part of the output freeze agreement in the next meeting...
---