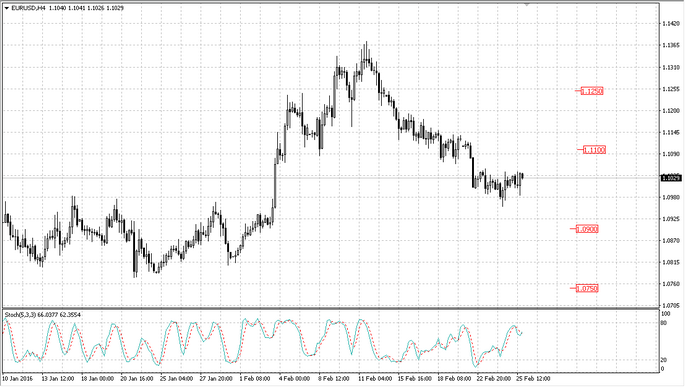 February 26, 2016
---
The weak US data gave the euro strength by pushing the dollar down. According to the preliminary data, Markit Services PMI for February reached the level of 49.8 against the forecast of 53.5 and the previous value of 53.2. Meanwhile, the primary housing market sales fell by 9.2% against the expected slow decline to -4.4%. The United States published Initial Jobless Claims (272000 against the forecasted 270000), Housing Prices (0,4% m/m against the forecasted 0,5% m/m), Orders for durable goods (1,8% m/m against the forecasted 0,2% m/m) reports.
The demand decreased on euro amid: oil prices falling, fears of China's banking system corruption, as well as talking about Brexit. In the same time, British possible exit from the EU sent the pound to multi-year lows, pressing the euro as well. Traders did not use the euro as a safe haven due to speculation about the potential breaking of the European Union after the UK leaving the alliance. Only by the end of the trades the pair euro/dollar slightly strengthened.
The pair GBP/USD was under pressure amid the possible UK exit from the EU. The market was volatile in anticipation of the UK GDP data for Q4. Traders expected a growth by 0.5%. In fact, the second GDP estimate came in at 0.5% q/q and + 1.9% y/y. The pair pound/dollar is consolidating.
The yen strengthened again in a new wave of risky assets sales this week. However the dollar showed a growth against the yen on Tuesday's trades.
Publication source
---
Fort Financial Services information
Fort Financial Services reviews
December 6, 2016
Morgan Stanley strategists believe that the ECB will keep rates on hold at this week's meeting, but can expand its QE purchase program. But they consider different scenarios with various responses from the euro...
---
December 6, 2016
The single currency opened Monday on a bearish note but managed to pare losses as investors brushed aside the Italian referendum results. EURUSD closed at a 2-week high right near the resistance level of 1.0765 as noted in yesterday's commentary...
---
December 6, 2016
Risk aversion intensified during early trading on Monday following reports of Italian Prime Minister Matteo Renzi experiencing a crushing defeat in the referendum on constitutional reforms which sparked concerns of renewed political instability in Europe...
---