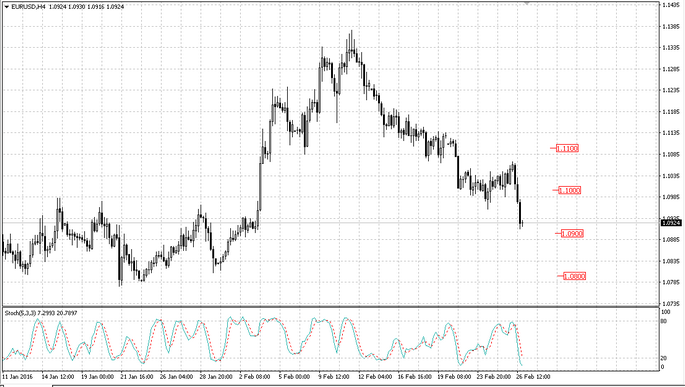 February 29, 2016
---
The US GDP for the fourth quarter was the key event last Friday (1,0% against the forecasted 0,4%). Earlier, the dollar lost ground, despite the durable goods orders positive release. The index jumped by 1.8% after falling by 1.2% in December.
Last Friday the G20 summit started its work in Shanghai. The problems with China, monetary policies coordination as well as world economy stimulation will be discussed in the meeting.
In economic news, German Finance Minister Schaeuble said in his speech that the space for monetary policy seems to be exhausted. According to him it was necessary to continue applying the financial regulation and to make the market less volatile. He also supported the idea to continue structural reforms. The pair euro/dollar sharply fell.
The main drivers for the pair GBP/USD were: Brexit and the British regulator's current monetary position. The pound reached seven-year lows last week. The currency weakening happened after some new forecasts, according to which the British currency might fall if the British citizens would vote for the country's exit from the EU in June. According to the opinion polls 43% of the population insisted on the necessity of such a decision. After a slight growth the pair pound/dollar decreased to new minimums on Friday.
The Bank of Japan continues to deny its plan to lower the current exchange rate. The BOJ governor Kuroda said that they did not plan to soften the monetary policy to weaken the yen. According to Mr. Kiuchi from the Board of Directors: an intervention will be an option if the market becomes volatile. The pair dollar/yen strengthened.
Publication source
---
Fort Financial Services information
Fort Financial Services reviews
December 9, 2016
The single currency was weaker after the European Central Bank decided yesterday that it would continue with its bond purchases program. The ECB extended its QE plans from March 2017 to the end of the year...
---
December 9, 2016
The global stock market rally, which was underpinned by further ECB stimulus measures yesterday and a rise in oil prices, continued in Asia overnight, with most markets moving higher...
---
December 9, 2016
Markets have thrown caution to the wind when it comes to movements as of late as once again US equities set the scene with another stellar rise, though not as big as yesterdays...
---