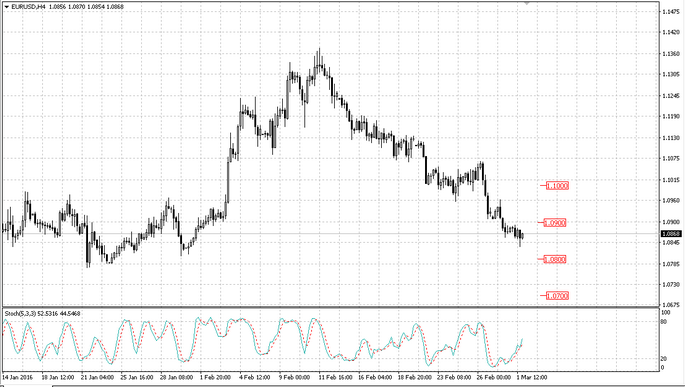 March 2, 2016
---
The US published Manufacturing PMI for February, the index came in at 49.5 when the forecast was 48.5. The escape from "risky" assets had a positive impact on the euro as a funding currency. Previously, the euro came under wave of sales when consumer prices report came in negative. The inflation index amounted 0.2% against the expected 0.0%. Base CPI noticeably slowed down as well to + 0.7% from + 1.0%. The CPI results significantly increased the chances that ECB would launch more aggressive easing policy in March. By the end of the trades the pair EUR/USD decreased.
We would pay attention for UK manufacturing sector PMI from Markit. Leading indicators pointed to negative data outcome. Industrial orders balance, according to the CBI, had been declining for ten consecutive months - the index recorded a maximum of the last three months in February. The PMI came in at the level of 50,8 against the forecasted 52,2. However the pair GBP/USD slightly strengthened.
Japan shall publish household spending for January, which had supported the US currency. The index came in at -3.1% y/y vs. the previous -4.4% y/y and the forecast of -2.5% y/y. The pair USD/JPY sharply grew.
Publication source
---
Fort Financial Services information
Fort Financial Services reviews
October 21, 2016
The price maintained its bearish tone on Thursday. The EUR/USD pair stayed around its recent lows during the day. The euro slightly strengthened towards 1.1000 ahead of the US opening. The 50-EMA limited the euro recovery in the 1 hour chart...
---
October 21, 2016
Asian stock markets are narrowly mixed, with Japanese bourses managing marginal gains as the Yen falls against the Dollar. Stock futures in the U.S. are down...
---
October 21, 2016
The ECB monetary policy meeting yesterday saw the euro give up its intraday gains to close on a bearish note. As Draghi signaled that the central bank would need time to assess the monetary policy situation...
---