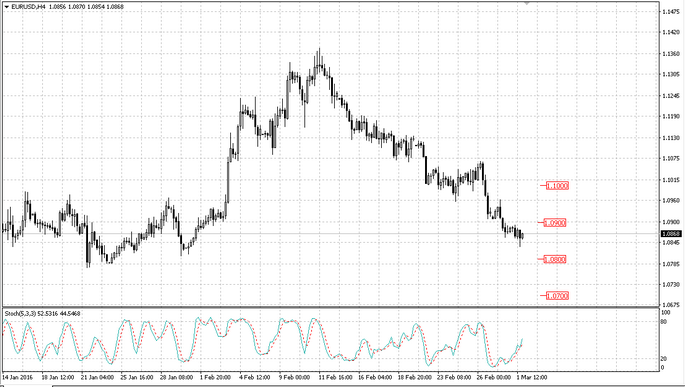 March 2, 2016
---
The US published Manufacturing PMI for February, the index came in at 49.5 when the forecast was 48.5. The escape from "risky" assets had a positive impact on the euro as a funding currency. Previously, the euro came under wave of sales when consumer prices report came in negative. The inflation index amounted 0.2% against the expected 0.0%. Base CPI noticeably slowed down as well to + 0.7% from + 1.0%. The CPI results significantly increased the chances that ECB would launch more aggressive easing policy in March. By the end of the trades the pair EUR/USD decreased.
We would pay attention for UK manufacturing sector PMI from Markit. Leading indicators pointed to negative data outcome. Industrial orders balance, according to the CBI, had been declining for ten consecutive months - the index recorded a maximum of the last three months in February. The PMI came in at the level of 50,8 against the forecasted 52,2. However the pair GBP/USD slightly strengthened.
Japan shall publish household spending for January, which had supported the US currency. The index came in at -3.1% y/y vs. the previous -4.4% y/y and the forecast of -2.5% y/y. The pair USD/JPY sharply grew.
Publication source
---
Fort Financial Services information
Fort Financial Services reviews
February 21, 2017
The Australian economy continues to be a roller coaster for any Aussie bulls, but one thing is certain the markets are not paying too much attention at present with the AUDUSD being one of the stand out performers in 2017 so far.
---
February 20, 2017
The U.S. dollar is attempting to post some gains to build up from Friday's reversal. Price action has formed an inside bar among EURUSD and USDJPY which could indicate a potential breakout trading that could establish the near-term direction of prices...
---
February 20, 2017
In the US, the Fed will release the minutes of its February meeting. Markets will probably focus on any signals regarding the timing of the next rate hike...
---