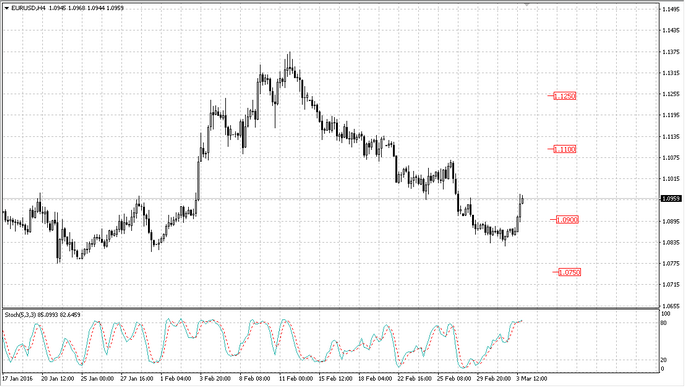 March 4, 2016
---
The United States published Initial Jobless Claims (278000 against the forecasted 271000) and Non-Manufacturing PMI for February (the data came in at the level of 53.4 the previous value was 53.5, the forecast was 53.2). Today traders' attention will be focused on NFP.
The differential yields on US and German government bonds reduced, which increased the investment attractiveness in European assets. This in return would support the demand for euro. On the other hand, the risk "assets" are still in demand in the financial markets, which is a negative factor for the euro as a funding currency. By the end of the trades the pair euro/dollar showed a strong growth.
The UK published Services PMI from Markit for February. The release came in at the level of 52.7, the previous value was 55.6, the forecast was 55.1. Firstly, the GDP grew by 0.65%, with an overall economic growth of 0.5% in the services sector in the fourth quarter of 2015. Secondly, the labor market positive dynamics shall increase optimism among purchasing managers in this sector. The pair pond/dollar increased.
The published APD report justified our positive expectations. The final figure was 214 000, that is the first positive sign for Friday's data on the Non-Farm. Japan upset investors with its latest releases having published weak personal consumption report. The yields differential on US and Japanese government bonds has been expanding the last four trading days in a row, which supported the demand for the dollar. The pair dollar/yen closed the trades with a decrease.
Publication source
---
Fort Financial Services information
Fort Financial Services reviews
January 16, 2017
U.S. markets are closed Monday for Martin Luther King Day. This will be a busy week for traders, with the inauguration of president-elect Trump on Friday headlining...
---
January 16, 2017
U.S. markets are closed today on account of Martin Luther King Day. Economic data is quiet ahead of another busy week. The Bank of England Governor, Mark Carney will be speaking later this afternoon and his comments come a day before the British PM Theresa May will be holding her press conference on Brexit...
---
January 13, 2017
Aftershocks from President-elect Trump's campaign-like press conference, which had weighed on global stock markets and yields started to recede late in the U.S. session and U.S. equities managed to recover part of their losses...
---