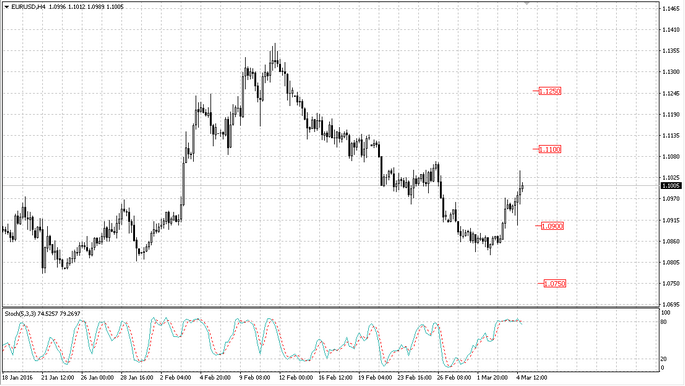 March 7, 2016
---
The market sentiment worsened after the weak US data publication. The dollar lost ground against the European currency. Initial Jobless Claims in the USA rose to 278 000 from 272 000, labor costs sharply fell to 3.3% against the expected growth of 4.7%. The US issued the employment outside agricultural sector release. The data came more than expected 190 thousand. The number of employees amounted to 242 thousand.
Some economists believe that the strong employment data in the private sector will make it possible for the Fed's to increase the rate at its meeting on March 16th. The USA published another important release: unemployment rate for February (the previous value was 4.9%, the forecast was 4.9%). The data came in at the forecasted median. The pair EUR/USD strengthened by the end of the trades.
The pound was trying to grow still the negative fundamental background showed that we should expect a new downtrend in the near future. All three UK Markit's reports from published this week disappointed investors with their weak data. In addition service PMI for February dropped to its lowest level since March 2013 to 52.7 vs. 55.1. The pair GBP/USD increased.
The USA published the foreign trade balance for January (the previous value was 43.36B; the forecast was -43.5B). The pair USD/JPY is trading in a side corridor.
Publication source
---
Fort Financial Services information
Fort Financial Services reviews
January 17, 2017
Asian stock markets were mixed, with Japan and ASX heading south amid reports that U.K. Prime Minister May will announce plans for a hard Brexit at today's keynote speech. Yen strength is also continuing to put pressure on the Japanese markets...
---
January 17, 2017
Markets started the week with no sharp changes and lower trading volumes, due to the Martin Luther King Day in the US, ahead of the crucial monetary policy decisions of the ECB and BoC...
---
January 17, 2017
The U.S. dollar was trading weak yesterday in a holiday thin trading session. The Japanese yen strengthened strongly in the early hours today as investors turn cautious ahead of the British PM...
---