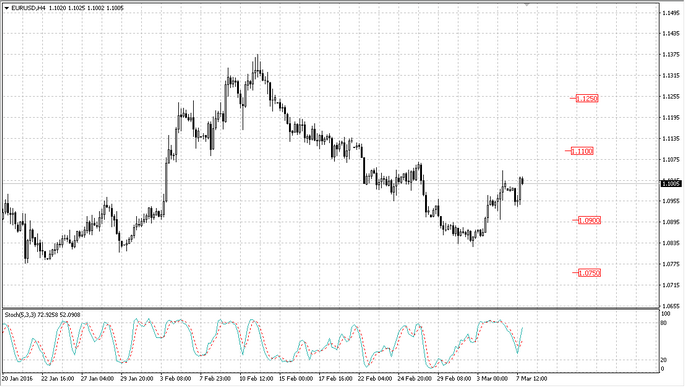 March 8, 2016
---
Market attention last week was directed to the long-awaited report on the US labor market, that had shown a positive increase. However despite such a strong result, the dollar weakened against the European currencies, showing a short-term positive reaction. This was because the market paid considerable attention to hourly earnings index which were very disappointing. After January growth of 0.5% the indicator went to the negative territory, reaching -0.2% vs. expected + 0.2%. In spite of the still favorable labor market conditions, the inflation at the consumer level can not let the Federal Reserve tighten the monetary policy in the foreseeable future.
In economic news, Germany published factory orders (-0,1% against the forecasted -0,3%) and Eurozone revealed Sentix investor confidence (5,5 against the forecasted 8,0). The ECB meeting is the key event of this week. We expect the ECB to expand its stimulus to support the economy of the region. By the end of the trades the pair EUR/USD strengthened.
Despite the "black gold" growth the British currency growth slowed down anyway. The slow down may be a signal for investors to begin taking profit on long positions. The pair GBP/USD showed a strong growth by the end of the trades on Monday.
The pair USD/JPY continues the trades in a flat.
Publication source
---
Fort Financial Services information
Fort Financial Services reviews
January 18, 2017
German HICP confirmed at 1.7% y/y, as expected, with prices up 1.0% m/m. The sharp acceleration from just 0.7% y/y in November was mainly due to base effects from lower energy prices and the breakdown showed that prices for heating oil jumped 21.9% y/y in December...
---
January 18, 2017
The British pound posted strong gains yesterday with the Prime Minister Theresa May outlining her vision for Brexit and the parliamentary approval of the Brexit deal...
---
January 18, 2017
The Sterling/Dollar exploded into extreme gains on Tuesday with prices clipping above 1.2400 after Prime Minister Theresa May's optimistic Brexit speech signaled that the United Kingdom was seeking a deal which would satisfy both parties...
---