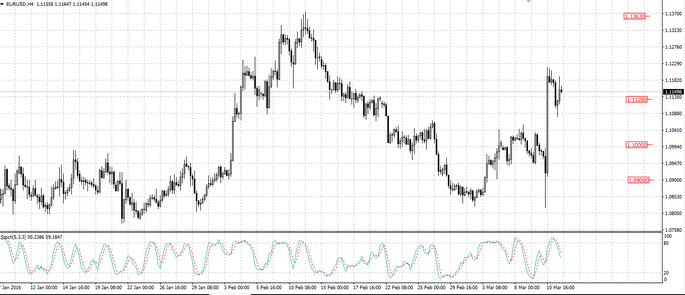 March 14, 2016
---
The ECB announced a mitigation program: the deposit rate was reduced from -0.3% to -0.4%, the base rate of 0.05% was lowered to zero (0.00%), the program redemption of assets increased from 60 billion to 80 billion per month. Now any investment-grade bonds, including corporate ones will be redeemed. The ECB adopted a new four-year program targeted to concessional loans (TLTRO) at zero percent.
Consumer prices in Germany remained unchanged in February compared with a year ago rate. The consumer price index remained unchanged after rising by 0.5 percent in January and by 0.3 percent in December. Consumer prices rose by 0.4 percent on a monthly basis. The index partly reversed the 0.8 percent decline in January. It was the highest inflation rate since March 2015.
Trade balance in the UK for the last month increased, contrary to out expectations. The index showed -10,29B compared to -10,45B in the previous month. These data were revised downward to -9,92B. Experts expected the index to decline over the past month to -10,30B.
The USA published Export Price Index for February. The index was expected to fall by 0.7% m / m. The index showed -6.0%.
Publication source
---
Fort Financial Services information
Fort Financial Services reviews
February 20, 2017
The U.S. dollar is attempting to post some gains to build up from Friday's reversal. Price action has formed an inside bar among EURUSD and USDJPY which could indicate a potential breakout trading that could establish the near-term direction of prices...
---
February 20, 2017
In the US, the Fed will release the minutes of its February meeting. Markets will probably focus on any signals regarding the timing of the next rate hike...
---
February 20, 2017
The dollar fell on Friday amid a light market due to US President's Day. Investors are monitoring the US political situation and waiting for a decision on financial aid to Greece...
---