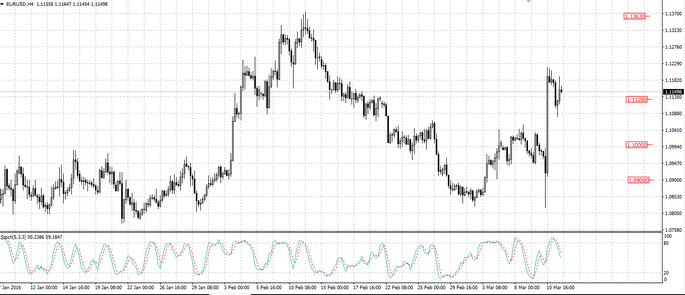 March 14, 2016
---
The ECB announced a mitigation program: the deposit rate was reduced from -0.3% to -0.4%, the base rate of 0.05% was lowered to zero (0.00%), the program redemption of assets increased from 60 billion to 80 billion per month. Now any investment-grade bonds, including corporate ones will be redeemed. The ECB adopted a new four-year program targeted to concessional loans (TLTRO) at zero percent.
Consumer prices in Germany remained unchanged in February compared with a year ago rate. The consumer price index remained unchanged after rising by 0.5 percent in January and by 0.3 percent in December. Consumer prices rose by 0.4 percent on a monthly basis. The index partly reversed the 0.8 percent decline in January. It was the highest inflation rate since March 2015.
Trade balance in the UK for the last month increased, contrary to out expectations. The index showed -10,29B compared to -10,45B in the previous month. These data were revised downward to -9,92B. Experts expected the index to decline over the past month to -10,30B.
The USA published Export Price Index for February. The index was expected to fall by 0.7% m / m. The index showed -6.0%.
Publication source
---
Fort Financial Services information
Fort Financial Services reviews
January 23, 2017
Donald Trump is finally in power, a new era has arrived, and his policy plans in the first couple of weeks will override fundamentals. Markets spent more than two months pricing in growth policies promises, lowers corporate taxes, and deregulations, now it is time to deliver as markets will no more move on words but actions...
---
January 23, 2017
The U.S. dollar continued to extend the declines for what could a third consecutive day. On Friday, Donald Trump took office as the 45th President of the United States...
---
January 20, 2017
Asian stock markets were mixed overnight, after U.S. and European shares closed in the red Thursday. Japan and mainland China bourses managed to move higher (Chinese GDP beat expectations at 6.8%)...
---