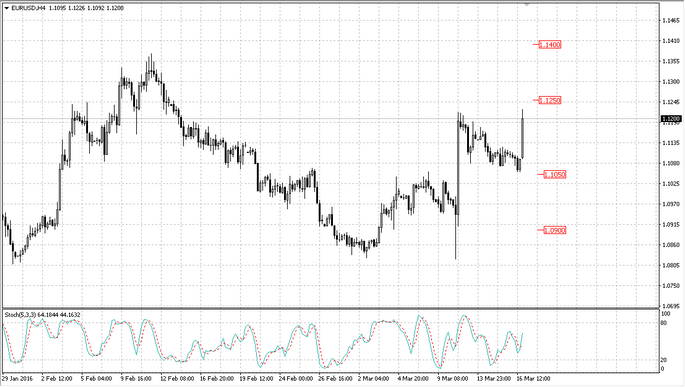 March 17, 2016
---
The main reasons for the risk aversion were: concerns about the American regulator's aggressive actions, the Bank of Japan's inactivity at the last its meeting, the decline of oil prices and renewed talk of a British exit from the EU.
The market did not expect any change of rates from the Federal Reserve and all investors' attention was focused on the Janet Yellen's press conference. As we expected Janet Yellen's comments were the same as before. According to the regulator the monetary authorities will closely monitor incoming macroeconomic data and if the regulator sees inflation and the labor market positive tendency the FED will raise the rates. Yellen did not announce the date of the next rate hike, and noted that the Federal Reserve's achievement should require a lower pace of rate increase. The pair euro/dollar increased.
The UK published 2 important releases: The unemployment rate for January (the previous value was -5.1%, the forecast was 5.1%) came in at the forecasted level, and Average Earnings including Bonus for January (the previous value was 1.9%, the forecast was 2.0%) came in at the level 2,1%. The pair pound/dollar closed the trades with a growth.
We expected the USD/JPY to exit the flat soon, and this exit can be very volatile. Japan does not need a strong yen as Japan's economy keeps showing slowdown. At the same time, the strong dollar is not welcome factor for the US Federal Reserve, as the strong dollar negatively affects US exporters. By the end of the trades the pair dollar/yen sharply fell.
Publication source
---
Fort Financial Services information
Fort Financial Services reviews
December 9, 2016
The single currency was weaker after the European Central Bank decided yesterday that it would continue with its bond purchases program. The ECB extended its QE plans from March 2017 to the end of the year...
---
December 9, 2016
The global stock market rally, which was underpinned by further ECB stimulus measures yesterday and a rise in oil prices, continued in Asia overnight, with most markets moving higher...
---
December 9, 2016
Markets have thrown caution to the wind when it comes to movements as of late as once again US equities set the scene with another stellar rise, though not as big as yesterdays...
---