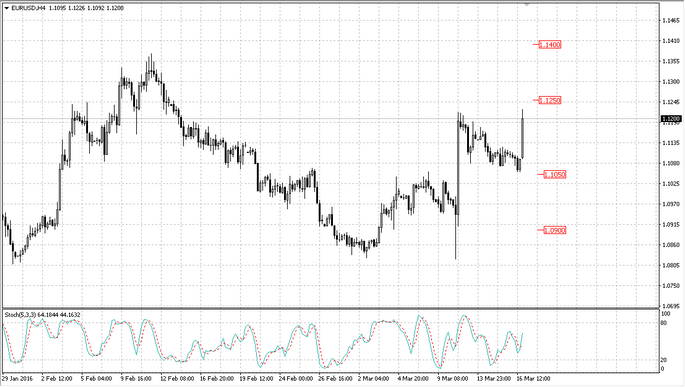 March 17, 2016
---
The main reasons for the risk aversion were: concerns about the American regulator's aggressive actions, the Bank of Japan's inactivity at the last its meeting, the decline of oil prices and renewed talk of a British exit from the EU.
The market did not expect any change of rates from the Federal Reserve and all investors' attention was focused on the Janet Yellen's press conference. As we expected Janet Yellen's comments were the same as before. According to the regulator the monetary authorities will closely monitor incoming macroeconomic data and if the regulator sees inflation and the labor market positive tendency the FED will raise the rates. Yellen did not announce the date of the next rate hike, and noted that the Federal Reserve's achievement should require a lower pace of rate increase. The pair euro/dollar increased.
The UK published 2 important releases: The unemployment rate for January (the previous value was -5.1%, the forecast was 5.1%) came in at the forecasted level, and Average Earnings including Bonus for January (the previous value was 1.9%, the forecast was 2.0%) came in at the level 2,1%. The pair pound/dollar closed the trades with a growth.
We expected the USD/JPY to exit the flat soon, and this exit can be very volatile. Japan does not need a strong yen as Japan's economy keeps showing slowdown. At the same time, the strong dollar is not welcome factor for the US Federal Reserve, as the strong dollar negatively affects US exporters. By the end of the trades the pair dollar/yen sharply fell.
Publication source
---
Fort Financial Services information
Fort Financial Services reviews
January 24, 2017
The UKs Supreme Court will be giving its verdict in the High Court on whether the Brexit referendum should be put to a parliamentary vote or note. There is a widespread consensus that the Supreme Court will rule in favor of the High Court...
---
January 24, 2017
Oil prices were initially weaker at the start of the new week, but they have now recovered to trade almost flat at the time of this writing. At the weekend, the OPEC and some producers outside of the group met to discuss the progress of their oil production deal...
---
January 24, 2017
Asian stock markets were mixed overnight, with Japanese bourses still under pressure (Nikkei closed down 0.55%). despite a dip in the Yen, as USD stabilised. Uncertainty over Trump's regulatory and trade policies continues to weigh on investor sentiment...
---