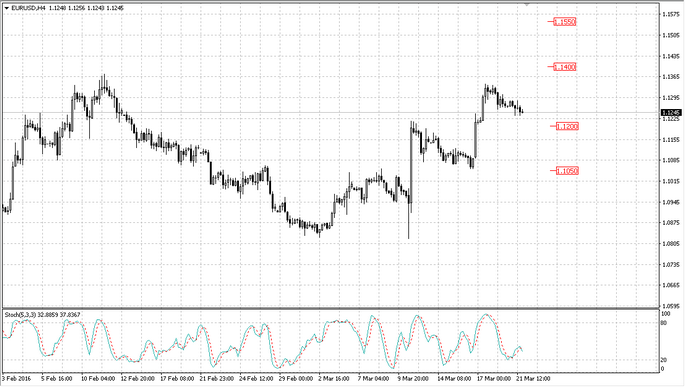 March 22, 2016
---
The dollar tried to recover after aggressive sales, still its upward potential was limited, and the US currency was in its third week of decline against the euro. The stock markets sentiment supported the dollar. The main drivers for the risky assets strengthening were: oil growth and Praet's comments (ECB representative) regarding possible further monetary policy.
The EUR/USD showed a mixed background. On the one hand, the growth of "risk appetite" was a negative factor for the euro as a funding currency. On the other hand, moderately negative macroeconomic data from the United States did not allow the dollar to strengthen. Weak Retail Sales for January and February did not allow us to rely on an increase in sales in the secondary market. In fact the data came in at the level of 5,08M against the forecasted 5,34M. However, the pair euro/dollar decreased.
The UK government bonds yield decreased in relation to their counterparts (USA and Germany) which reduced the attractiveness of investments in British assets, and thereby put pressure on the pound. On the other hand, the oil market showed a technical correction as well. Then the oil price showed a growth. The pair pound/dollar closed the trades with a decrease.
Japan celebrated a public holiday, its banks did not work. The market showed low liquidity. The pair dollar/yen slightly increased.
Publication source
---
Fort Financial Services information
Fort Financial Services reviews
October 21, 2016
The price maintained its bearish tone on Thursday. The EUR/USD pair stayed around its recent lows during the day. The euro slightly strengthened towards 1.1000 ahead of the US opening. The 50-EMA limited the euro recovery in the 1 hour chart...
---
October 21, 2016
Asian stock markets are narrowly mixed, with Japanese bourses managing marginal gains as the Yen falls against the Dollar. Stock futures in the U.S. are down...
---
October 21, 2016
The ECB monetary policy meeting yesterday saw the euro give up its intraday gains to close on a bearish note. As Draghi signaled that the central bank would need time to assess the monetary policy situation...
---